Marley & Me
4 journalers for this copy...
Labrador retrievers are generally considered even-tempered, calm and reliable;and then there's Marley, the subject of this delightful tribute to one Lab who doesn't fit the mold. Grogan, a columnist for the Philadelphia Inquirer, and his wife, Jenny, were newly married and living in West Palm Beach when they decided that owning a dog would give them a foretaste of the parenthood they anticipated. Marley was a sweet, affectionate puppy who grew into a lovably naughty, hyperactive dog. With a light touch, the author details how Marley was kicked out of obedience school after humiliating his instructor (whom Grogan calls Miss Dominatrix) and swallowed an 18-karat solid gold necklace (Grogan describes his gross but hilarious "recovery operation"). With the arrival of children in the family, Marley became so incorrigible that Jenny, stressed out by a new baby, ordered her husband to get rid of him; she eventually recovered her equilibrium and relented. Grogan's chronicle of the adventures parents and children (eventually three) enjoyed with the overly energetic but endearing dog is delivered with great humor.


Wird ein Ray:


gruengelb

sternenwolf

cinda-rella

...

---

I've just taken the book out of the post box.
I'm really looking forward to reading it!

I'm afraid it will have to rest on my shelf for a while, as my reading for the German lesson and the one for the English lesson have to be read over the Easter holidays. But after those... =)
---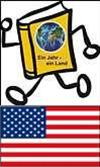 Wow, what a wonderful book!
I've just read it out, and it really touched me.
I've seen the film in cinema, so I knew the story approximately, but in spite I laughed really often, and I cried as well. And usually I don't do both things while reading a book!
Marley is such a wonderful dog, and John Grogan tells his story in a really good way, so you feel exactly like the Grogans might have felt when Marley did all his japes.
My favourite expression: "Marley loved to play submarine with his snout in the water bowl." Do you also have this funny picture in your mind, when you read this sentence?
I'm really sorry that I couldn't read the last few chapters at one blow, because they're written in such an emotional way that I think you can't stop crying once you fell in love with Marley. I had to interrupt those last chapters several times and I think it would have been sadder, if I had read them at one blow - and sometimes I love really sad books.
Maybe I'm going to read them once again before sending the book to sternenwolf...
So I would say this is a really, really, really great book, which is worth the ten points. I wouldn't say it's better than the film, but it's different. Grogan tells us about more things he experienced with Marley and I liked the book as well as I liked the film.
The language is good to read, even if you know only the English you've learned at school. I didn't understand every single word, but I always got the point, so I could laugh about every joke Grogan made (or at least I hope so... maybe I missed some completely, who knows?).
I've read this book for the
1 Jahr = 1 Land - Challenge
for America.
---

Journal Entry
4
by
gruengelb
at
-- Per Post/Persönliche Weitergabe--, Hessen Germany on Tuesday, April 28, 2009
Released 11 yrs ago (4/27/2009 UTC) at -- Per Post/Persönliche Weitergabe--, Hessen Germany
CONTROLLED RELEASE NOTES:
---

Arrived today! Thanks at gruengelb for sending und at Bean-Sidhe fro the Ring! I am going to read it very soon I think!
---

Amazing! Marley caught me right up to my heart! He reminds me of the dogs in my life. The one we own right now or who owns us and the two we have got to say "Good bye!" to! They were like Marley in some cases! Like him, they seems to be the worst dogs in the world, but the whole family loved them and felt the pain when they have to leave to the other side of the rainbow. John Grogan describes th life an love with Marley funny and exciting. Would would this dog do next? And with lost of feelings! Feelings every dog owner knows and could feel with.;) I laughed a lot, I shook my head,I nodded and I cryed with the Gorgan's and theire adorable and at the same time terrible dog Marley!
A wounderful book for every animal lover!
Resevered for ghanescha's Dog-Book-Box!
---

Journal Entry
7
by
sternenwolf
at
Book Box, A Bookbox -- Controlled Releases on Wednesday, July 29, 2009
Released 10 yrs ago (7/29/2009 UTC) at Book Box, A Bookbox -- Controlled Releases
CONTROLLED RELEASE NOTES:
CONTROLLED RELEASE NOTES:

Kommt in die HundeBücherBox!
---

Ich habe das Buch aus der HundeBücherBox genommen, weil es mir beim großen Meetup in Regensburg wärmstens empfohlen wurde. Allerdings bin ich jetzt etwas ratlos: Ist der BookRay schon beendet, oder will cinda-rella das Buch noch lesen? Ich werde sie mal anschreiben...

----------------------------------------
Edit 30.09.09:
Ich habe inzwischen erfahren, dass cinda-rella das Buch nicht mehr haben wollte. Danke an sternenwolf für diese Info!

---

Leider war ich krankheitsbedingt lange Zeit BC-abstinent. Weil ich mehr Bücher hier habe als ich lesen kann, muss ich mich von einigen Schätzchen trennen.

Dieses Exemplar stelle ich jetzt ins Bücherregal im Hotel Lux, Regensburg, im Gästebereich.
Gute Reise, liebes Buch!
---