Crow Lake
4 journalers for this copy...
The writing style is very simple. I thought the characters were compelling, though. You could relate to them and you cared about what happened to them. I found the ending a bit anticlimactic.
---
Released on
Friday, June 06, 2003 to fellow bookcrosser
by mail, controlled release Netherlands.
to Virgulina (Portugal)
---
I received this book today from
aapje
. Thanks! :)
---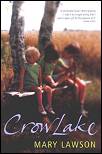 I have to confess that I just couldn't make myself finish this book. I read half of it and I couldn't care less about any of the characters or what happened to them. Nothing happens in this story and I really couldn't find any reason for Kate to still be traumatized at 26. Her parents died but so many people lose their parents and are able to go on with their lives that I just couldn't understand what was going on inside her head. Maybe it was the author's style that I disliked but I just couldn't sympathize with Kate and her brothers!
---
This book will now be going to
caretta
in the USA who accepted it on the
Already Been BookCrossed BookRelay
. Hope you enjoy it a little bit more than I did! :)
---
This book arrived yesterday - thanks, Virgulina!
---
I was interested in this book because the main character is an ecologist, which is my profession. I put off reading it for a while, though, because from the plot description, I expected it to be really depressing. But it wasn't. Although some parts were slow, I was really interested in the story. I could relate to Kate's academic life (please, could I write "drop the course" on my students' lab reports?) and understood her struggle with accepting the path Matt's life had taken. I really liked one of the last lines of the story: "I have become familiar with books and ideas you never even imagined, and somehow, in the process of acquiring all that knowledge, I have managed to learn nothing at all." As always, I am interested in how certain books speak to some readers but not to others. This one did speak to me and I'm glad I had a chance to read it. Now, it will be traveling on to gregn7157 in New Jersey, USA. Enjoy!
---
Arrived safe & sound -- thank you!
---