Registered by
LeighBCD
on 5/20/2003

This Book is Currently in the Wild!
5 journalers for this copy...

I bought this from Amazon. Not quite sure how I found out about this novel but I suspect I was probably searching for Val McDermid and came across it that way. It has had some good reviews on the back cover, I hope it is good.

**Reserved for librairie
---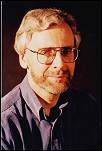 This is a picture of the author.
I found it hard initially to get into this book but I persevered and I am glad that I did. This is a mystery novel which concentrates on characterisation rather than plot. I disliked the female detective, Diane Fry, intensely and it bothered me that Ben Cooper (our hero) let her get away with so much unwarranted rudeness. I think this is because his character is supposed to be empathetic to all but his politeness to her made him seem wimpy to me and not admirably stoic. I was not that enamoured with the plot of the murders either, and found it hard to care about whether the killer was ever found.
So, I hope I have not put librairie or any other readers off. This novel has a lot of fans so it could just be me and my taste. Anyway, I shall send this off to librairie in the next few days - I hope whoever reads this after me enjoys it!
---

That was quick! I'm keen to get started on this book as I enjoyed the first one so much, so this will probably be the next book I start.
---

While I didn't feel this was quite as good as the first book, I still loved it. I do think it was necessary to have read the previous book (Black Dog) to understand a bit more about the two main characters. While Diane Fry's past experiences were mentioned and Ben Cooper's family problems were mentioned, I didn't feel that the full extent to which both of them had been damaged by these came across. The fact that I was aware of why Diane got to be a higher rank made a difference too.

I suppose one of the things I liked about the book was the fact that it shows how a murder affects people in many different ways and things don't get neatly tied up or dealt with well. I also like the fact that the characterisation is as important as the plot. I will be starting on the next book soon.

This is going to Shylock as a trade
---
Rec'd in trade with Librarie in Norway. Goody, goody,Stephen Booth sets his stuff in the beautiful but brooding north of England,and that's good enough for me!
---
I agree with librarie about the laudable focus on characterisation & the wider repercussions of crime. With present difficulties in the farming community in the UK, I was happy to see some focus on that too. The author breeds goats so no doubt the issue is close to his heart. Black Dog was better but that's not to take anything away from this one, and i'll be reading the rest (3 more up to now).

Black Dog ring going round at the mo, this will follow it:

bookfrogster



PS: LeighBCD, if you see this entry, please pass on my whodunnit bookbox to phantomcougar. I've been pming you, but no doubt your firewall is blocking them.Thanks.
---
This arrives safely yesterday. Really looking forward to reading this, as the first in the series was so good. Thanks for sharing this one shylock.
---
Another winner from Stephen Booth. Really good to discover a new British crime writer who appeals to me. I really like his style, and am glad his books follow on from each other so you really get to know the characters and see them develop. Thanks so much for introducing these to me shylock.
---

picked up at Meet up ,thanks Bookfrogster.

The cover rang bells with me and I realise now that i have Black Dog, bought earlier this year for 99p at Ottakars! Hope it's the one before this one!
---

Although I have Black Dog, i read this first, mainly because i've had it so long and I like to keep Bx books moving. I prefer grittier, faster -paced writing than this. It was enjoyable enough and I will read Black Dog but I won't seek out any more by Booth.
---

Journal Entry
11
by
Triggerfish
at
-- Somewhere in St Andrews -- in St Andrews, Scotland United Kingdom on Saturday, April 08, 2006
Released 13 yrs ago (4/8/2006 UTC) at -- Somewhere in St Andrews -- in St Andrews, Scotland United Kingdom
WILD RELEASE NOTES:
RELEASE NOTES:

Sorry to be vague but I'm not sure how awful the weather is going to be or exactly where I will go in St A.

Update - left it downstairs in the Seafood Restaurant.
---