Hope Was Here (r/i)
3 journalers for this copy...
Thrift store purchase.

To replace AWOL copy of bookring - original copy here:

http://www.bookcrossing.com/journal/6452826

Sending to hyphen8 to restart the ring.

from amazon.com:
Ever since the boss promoted her from bus girl 2 1/2 yrs ago when she was 14, Hope has been a waitress - and a darn good one, too. She takes pride in making people happy with good food, as does her aunt Addie, a diner cook extraordinaire. The two of them have been a pair ever since Hope's waitress mother abandoned her as a baby, & now they have come to rural Wisconsin to run the Welcome Stairways café for G.T. Stoop, who is dying of leukemia. But he's not dead yet, as the kindly & greathearted restaurant owner demonstrates when he decides to run for mayor against the wicked and corrupt Eli Millstone.

As old-fashioned goodness lines up against the bad guys, the campaign leads Hope in exciting new directions: a boyfriend who is a great grill man, a new sense of herself and her mission as a waitress, and - when Addie and G.T. finally realize that they are meant for each other - the father she has always wanted. And all of it backed up with stuffed pork tenderloin, butterscotch cream pie, and the rhythm of the short-order dance.
~~~~~~~~~~~~~~~~~~~~~~~~~~~~~~~~~~~~~~~~~~~~~~~~~~~~~~~~~~~~
Yes, it's pat, but hey, it's a YA novel. Definitely
a feel good read.
---

Received today - thanks to DrSlump612 for the assist with the ring!
---


I wanted a feel-good, since I found my previous read something of a downer. This was just right. Thanks again!
Wisconsin is the 30th state and its nickname is the "Badger State" although it's also famous for its many cheeseheads. I don't remember much about it, but I know we visited the Dells back when I was a little twerp.
The status of this book is pending until I check with Spacedog and DrSlump612 to see if they have any directions for me...
Wisconsin state flag taken from the
Flags of the World (FOTW)
website and converted to jpg format. All credits for flag graphics are as shown at FOTW.
---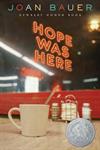 This book will be offered to dancing-dog, who started the original Newbery ring
here
.
---

CONTROLLED RELEASE NOTES:
dancing-dog said I don't need to send her this book, so I'm sending it to debnance for release at the Texas Library Association conference. If it doesn't make it there in time I hope it will find a good home somewhere in Texas.
Here's
another copy
on my shelf.
Freed any good books lately? It's good for the circulation. :)
---
I'm sad to say this book arrived a bit too late for the library conference, but I have other plans for it....I'll plan to release it later this year at the big Texas Book Festival in Austin.

But, before I do, it is a Newbery Honor book that I have not read. Since I read all the Newbery books last year, I've been focusing on reading the honor books. I must give this one a read.
---
Hope was tiny when she was born and her mom couldn't cope; Hope's mom gave Hope to Hope's aunt to raise. Hope's aunt, Addie, is a fantastic cook but she and Hope are always moving.

The one thing Hope's mom gave Hope of use to her was the secrets of waitressing. Hope and Addie suffer at the hands of a con artist and are on the move again, this time to the café of a man with cancer. The man with cancer turns out to be another Atticus Finch, but with political thoughts, and Hope becomes caught up in his campaign for mayor against a villainous long time mayor.

I liked this story more and more with every page I read. The aunt…the mom…the café owner…the cook at the café…Hope herself…all were scrumptious characters.

---