Caramelo
4 journalers for this copy...

My sister was cleaning out her bookshelf today and this is one of the many books I took with me:)

This book is about a family which packs up in 3 cars every year and drive from Chicago to the Little Grandfather and Awful Grandmother´s house in Mexico City for the summer.

Seems to be an interesting book:)
---

Released 10 yrs ago (6/14/2010 UTC) at Tampere, Pirkanmaa / Birkaland Finland
CONTROLLED RELEASE NOTES:
Caramelo will now travel to Finland:) hope you will enjoy the book Tarna:)
---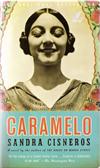 The book arrived today. Thank you so much, Bjorg! I've read
The House on Mango Street
some ten years ago - and loved it. I'm sure I'll like this one too.
I didn't, btw, mail your package until yesterday but I think it should be there this week. My computer broke down and I'm out of Internet access for the time being, so I couldn't check if there's enough stamps. (The price list I've got is dated 2008 but I think it's still up-to-date. Didn't make it to the post office either.) If there's any problem in receiving the package or if it doesn't arrive, say, by the end of next week, please, let me know. I'll make it up to you somehow.
Once again, thanks for the book. Not to mentionthe letter. How did you know I love letters?
Edited to add, on Dec. 29, 2010, that
Caramelo
is now reserved for aetm. I'll read it first, of course, and then it'll leave for Texas. :)
---

Haven't got many words left. Sandra Cisneros used them all. ;)
Physically, it was a struggle. I've got such a poor eyesight and such a small print made it really hard to read this book Otherwise, I really liked this book.
Liked the first part very much. I wasn't that interested in the second part where Lala was telling the Awful Grandmother's life story. The whole idea of writing stories seemed to come out of nowhere and the second part seemed a bit loose somehow. Wasn't too keen on the third part either but it did seem better anyway. Loved the few last chapters.
I like the way Cisneros writes. Her narration style is ample and yet disciplined. It's interesting how she manages to weave Mexican history into Lala's family history. And the way she's dropping names (Josephine Baker, for instance) is hilarious. And, of course, I did enjoy the description of immigrant life and, especially, feelings of second generation immigrant. It's the same theme the author used in
The House on Mango Street
which, btw, still is my favorite. But I really liked
Caramelo. Thank you so much for this reading experience, Bjorg!
Next,
Caramelo
will leave Europe for North America and Texas. Someone there has wished for this book. I'll mail the book when I get back home, some time next week.
Sandra Cisneros
Home Page
Sandra Cisneros
at Wikipedia
---

Released 10 yrs ago (2/8/2011 UTC) at Tampere, Pirkanmaa / Birkaland Finland

CONTROLLED RELEASE NOTES:

In December, I hosted a little guessing game in the Finnish Forum. One of the lucky winners was aetm, and she chose Caramelo as her prize.


Congrats, aetm! Happy Reading!



Edited to add that the estimated travel time is 10 to 15 business days, so it should reach its destination by the end of February.
---

The book arrived safely here in Texas, thank you Tarna! Austin would most likely be on the way when doing a car ride from Chicago to Mexico City, like in this book, so it should probably travel after reading somewhere around here or in San Antonio.
Curious... Just Friday I found a book by an Icelandic author in a bookstore that I couldn't resist (Jar City, by Arnaldur Indridason), and on Saturday saw a short Icelandic film in a film festival here ("Epic Fail") - and now this book started its journey there... I don't believe in coincidences, so perhaps Jar City should be read next. Too many Iceland-related coincidences otherwise... :)
---

Journal Entry
7
by
aetm
at
JW Marriott (Ihilani) in Ewa Beach, Hawaii USA on Friday, January 20, 2012
Released 9 yrs ago (1/20/2012 UTC) at JW Marriott (Ihilani) in Ewa Beach, Hawaii USA
WILD RELEASE NOTES:
Safe journey little book - I hope you'll make many new friends on your travels!

"Don't ever apologize to an author for buying something in paperback, or taking it out from a library (that's what they're there for. Use your library). Don't apologize to this author for buying books second hand, or getting them from bookcrossing or borrowing a friend's copy. What's important to me is that people read the books and enjoy them, and that, at some point in there, the book was bought by someone. And that people who like things, tell other people. The most important thing is that people read... "
— Neil Gaiman

To the finder of this book:
Hello and congratulations! You have not only found yourself a good book, but a whole community of booklovers dedicated to sharing books with each other and the world at large. I hope you'll stick around a bit and get to know BookCrossing --maybe even make a journal entry on this book. You may choose to remain anonymous or to join (its free!)
Feel free to read and keep this book, or to pass it on to a friend or even set it out "in the wild" for someone else to find like you did. If you do choose to join and journal, then you can watch the book as it travels- You'll be alerted by email each time someone makes another journal entry. It's all confidential (you're known only by your screen name and no one is ever given your e-mail address), free, and spam-free. Happy reading!


A sweet and fragrant read, very enjoyable on a beach, a holiday, or anywhere nice and fragrant (like Hawaii...). And since I love leaving the travel reads traveling, I've got a feel this book might just run to its next reader here. The book is with some other traveling books on a coffee table in the coffee shop of JW Marriott in Ihilani/ Ko Ilani. Enjoy the read & the holiday :)
---
Found it in the Marriott hotel lobby
---