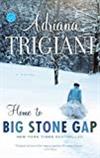 Home to Big Stone Gap (PGO Books)
4 journalers for this copy...
---
Journal Entry
2
by
PGO-Books4all
at
Salt Lake City, Utah USA on Thursday, July 30, 2009
CONTROLLED RELEASE NOTES:

Happy travels in the Summer Fun Bookbox!
---

Journal Entry
3
by

Bkind2books

from
Clarksville
,
Tennessee
USA on Thursday, September 17, 2009
What a lovely tribute to a special young man. I know how hard it is to lose a child - my 16 yo daughter died of bone cancer almost 2 years ago and there's not a day that goes by that I don't think of her. She too was a reader - I don't think she went anywhere without a book to entertain herself. God bless you and your family.
---

Journal Entry
4
by

Bkind2books

at
Clarksville, Tennessee USA on Sunday, July 03, 2016
This is the 4th book in this series and it speaks to me as have the others. I don't know if this is because I feel a kinship with Ave Maria - pharmacists, mothers who lost a child to cancer, and women of the south. Whatever the reason, this book was lovely to read. Ave Maria is dealing with her daughter's marriage as Etta has settled in Italy with her new husband. She must deal with a crisis with her husband's health, a revelation about a dear friend, and a company that threatens the mountains that she loves. This is a novel about changes and losses. Maybe it's that I've reached the same stage in my own life but I found so much to enjoy and learn from in this story.

Quotes to remember:

I make my way through the stone house, and it feels so empty - as it did before there were children. I don't know if there is a sound lonelier than the silence of everybody gone.

Autumn is my favorite time of year; it seems to say "Let go" with every leaf that turns and falls to the ground and every dingy cloud that rolls by overhead. Let go. (So hard to do when your nature tells you to hang on.)

I think about dying and all those who are now gone. I feel as though I am falling in line behind them, my mother, my father, Fred, my beloved Spec, and Joe. I had my mother to talk to when Fred died, and when she died, I had Iva Lou to help me. When Spec died, it seemed I had the whole county to mourn with me, so I never felt alone. When our son died, it was the worst thing that could happen to us, but it was happening to our family, and there was much consolation in Etta's love, and a lot to learn from a little girl as she grieved. Somehow, to share the very worst of life with Jack made it bearable. He showed me how to live with pain, live through it to get beyond it. I wouldn't have known how to do it without him.

Ever since Joe died, I knew that when my time came, I'd see him again. It's not that I want to die, but I don't think it's so terrible, because I know he'll be there. I'm looking forward to seeing him.

But when it's life or death, all bets are off. We make that walk alone, and no amount of love or wishing will change the outcome.

Time can do a lot of things - it can make memories sweet and it can dull pain - but it doesn't take away pain entirely.

"But I know why we had children."
"You do?"
"Because most of it is really good. And if grief is the price you pay for what's really good, it is well worth it."

There is a great gift in being with those you love as they're dying. When you've said all you can say, when you've done everything you can to make your loved one comfortable, when there is at last nothing left to do, all that remains is the mystical moment of surrender. Why should anyone face that alone? Maybe there is some master plan at work...How could one so young see things so clearly? Was it her fate to be there? Maybe fate is the footwork of decisions made with loving intentions.

We don't stop being mothers when our children leave us; we continue to teach them in everything we say and do. I still marvel at how much I count on my mother's love and advice, even though she has been gone over twenty years. I close my eyes and can still hear her voice, and there's never any question in my mind what her advice would be...Taking care of my mother when she was sick prepared me to look after my soon and then my husband when he fell ill. I couldn't see it at the time, but my mother, even as she was dying, was still teaching me how to be a good person right up to the moment I lost her. "There is no thing as too much generosity," she used to say. She wasn't talking about dropping off soup for someone sick (though that's important) or running errands for someone homebound (though that's kind). She was talking about a generosity of spirit, about being present when a person is afraid. She taught me not to run but to stay and listen. When people are sick, they crave reassurance and care, and when they're dying, they need to feel treasured. They need to know that you loved them, and that you always will.

How rare that reinforcement is! Most of the work in this world is thankless: parenting, the drudgery of our daily jobs - we contribute so much that no one sees or acknowledges.

Count who's here, not who's missing.

I can't help but remember those I've lost through the years...I resist the sadness and regret that comes with grief. The here and now is good enough. In fact, it's plenty good enough.

Grief makes you feel ancient. I know. You join the worst club in the world. You stand in line with anyone who ever lost someone they loved, and you mourn with them. There's no diversion from it, no quick way through it, no free pass to acceptance. You just have to live through it. At first that seems impossible...I didn't fight it; I let myself be sad for a very long time, and after a while, my world opened up...At the time I would have given everything I had to bring her back, and believe me, there are days when I would give everything I own to see her again, but that's impossible...She didn't stop being my mother when she died. She just went to the other side. She's still there, pulling for me. I can feel it.

Some men age like rat poison. A box of that stuff can be a hundred years old and it still works.

Life is not doled out by chance...You don't have a choice about when a child comes into the world or when they go - I don't care how much science they fool with...there's destiny involved. There is purpose in all of it.

This is the mysticism of Scotland, the play of light and dark against the richest blues and greens. It's as if time itself has a color here.

As we began to eat, I think how lucky we are to be part of a wonderful extended family who shows us how to live. I thought the Italians, with their gusto and warmth, invented fine living. And now I see that in the Scottish Highlands, where the winds off the sea blow bitter cold, that shelter can always be found in the loving hearts of friends.

...if you get to live long enough, if you make it to eighty, you realize that the only priceless gift you can leave behind is that you did more good than harm to the world you lived in.

We shouldn't let a day go by when we don't stop and think about what we are to each other and how the best part of that is the part that changes. That's the mystery. And that's the part of people that's divine. Accepting the unknown and trusting it.
---

Journal Entry
5
by

Bkind2books

at
Clarksville, Tennessee USA on Sunday, July 31, 2016
A tag-it-forward in the wishlist tag game. Sorry to have taken so long to send - I've been slammed at work. I hope you'll enjoy this as much as I did.
---

Journal Entry
6
by

ReallyBookish

at
Horsham, Pennsylvania USA on Friday, August 05, 2016
Received today from Bkind2books. Thank you so much! I was touched to see that this book was registered as a memorial. Thanks again!
---

Journal Entry
7
by

ReallyBookish

at
Horsham, Pennsylvania USA on Sunday, July 16, 2017
After reading
the first book
in this series, I decided that it isn't for me. So I am making this book available for another reader to enjoy!
---

Journal Entry
8
by

ReallyBookish

at
Horsham, Pennsylvania USA on Sunday, July 16, 2017
Reserving for the General Literature VBB.

Description from Amazon:

"Millions of readers around the world have fallen in love with the novels of the New York Times bestselling author Adriana Trigiani. In Home to Big Stone Gap, she tells her most powerful story yet, full of humor and heart, wisdom and hope.

Nestled in the lush Blue Ridge Mountains of Virginia, the town of Big Stone Gap has been home for Ave Maria Mulligan Machesney and her family for generations. She's been married to her beloved Jack for nearly twenty years, raised one child and buried another, and run a business that binds her community together, all while holding her tight circle of family and friends close.

But with her daughter, Etta, having flown the nest to enchanting Italy, Ave Maria has reached a turning point. When a friend's postcard arrives with the message 'It's time to live your life for you,' Ave Maria realizes that it's time to go in search of brand-new dreams. But before she can put her foot on the path, her life is turned upside down.

Ave Maria agrees to helm the town musical, a hilarious reunion of local talent past and present. A lifelong friendship collapses when a mysterious stranger comes to town and reveals a long-buried secret. An unexpected health crisis threatens her family. An old heartthrob reappears, challenging her marriage and offering a way out of her troubles. An opportunistic coal company comes to town and threatens to undermine the town's way of life and the mountain landscape Ave Maria has treasured since she was a girl. Now she has no choice but to reinvent her world, her life, and herself, whether she wants to or not. Trigiani is at her best in this exquisite page-turner. Home to Big Stone Gap is an emotional and unforgettable journey that reminds us that you can go home again and again. "
---

Journal Entry
9
by

ReallyBookish

at
Horsham, Pennsylvania USA on Monday, May 21, 2018
Removing from the General Literature VBB and making available.
---

Journal Entry
10
by

ReallyBookish

at
RABCK, --by post or by hand (ie ring, ray, RABCK, trade) -- Controlled Releases on Wednesday, August 08, 2018
Released 1 yr ago (8/8/2018 UTC) at RABCK, --by post or by hand (ie ring, ray, RABCK, trade) -- Controlled Releases
CONTROLLED RELEASE NOTES:
Headed out to iwillrejoice to fulfill a wish. Enjoy!
---

Journal Entry
11
by
iwillrejoice

at
Fort Myers, Florida USA on Tuesday, August 14, 2018

Arrived safely in Florida today. Thank you!
---