Vi som var föräldralösa (in Swedish)
Registered by

Annelis

of
Kerava
,
Uusimaa / Nyland
Finland on 1/9/2009
4 journalers for this copy...

Journal Entry
1
by

Annelis

from
Kerava
,
Uusimaa / Nyland
Finland on Friday, January 09, 2009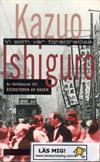 Product Description
England, 1930s. Christopher Banks has become the country's most celebrated detective, his cases the talk of London society. Yet one unsolved crime has always haunted him: the mysterious disappearance of his parents, in old Shanghai, when he was a small boy. Moving between London and Shanghai of the inter-war years, WHEN WE WERE ORPHANS is a remarkable story of memory, intrigue and the need to return.
353 sidor
---

Journal Entry
2
by

Annelis

from
Kerava
,
Uusimaa / Nyland
Finland on Thursday, August 13, 2009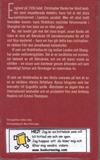 Ja, det här är verkligen a remarkable story. Och nu ska den resa vidare. Happy reading!
---
En Betty III-bok. Tusen tack, Annelis!
---
Spännande historia men ett rörigt slut. Jag stör mig lite på berättaren, Christopher. Jag upplever honom emellanåt som arrogant och okänslig. Klart läsvärd.
---
På väg till Nordpirat. God läsning!
---

---

Jag tycker mycket om Ishiguros språk och sätt att skriva. Jag har läst tre av hans böcker - samtliga utan att först läsa baksidestexten eller någon annan beskrivning om vad de handlar om och har därför inte haft en aning om vad jag kan förvänta mig när jag börjar läsa. Jag bara låter mig föras med av berättelsen. Det har varit lika givande och spännande varje gång.
---

Hej du som hittar boken!
Välkommen till bokens journal! Var snäll och skriv en liten anteckning om var du hittade boken någonstans.

Välkommen hit till BookCrossing också!
Titta gärna runt lite på sidan BookCrossing.com.
Du kan antingen registrera dig som medlem eller välja att vara anonym upphittare. Bookcrossing lämnar inte ut din e-postadress till någon! Jag har aldrig fått spam eller oönskad e-post på grund av bookcrossing.

Besök gärna forumet för skandinaviska medlemmar:

http://www.bookcrossing.com/forum/31

Trevlig läsning!
---

Journal Entry
9
by

AnonymousFinder

at
Hornstull, Stockholm Sweden on Thursday, July 25, 2019
Funnen på bokbytardag i Hornstulls galleria
---