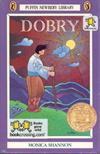 Dobry
4 journalers for this copy...
From the back cover:

In Bulgaria, Dobry lives within the circle of the year. While he helps his mother and grandfather with the wheat, tomatoes, and peppers that will give them a bountiful harvest, he can always find something exciting to look forward to. From the Gypsy Bear that visits his village, to the colorful kites flown by the village boys, to the most special time of the year - Christmas, and the winter Snow-Melting Games - Dobry uses it all in the art he creates. His best friend, Neda, shares it all - and Dobry's art helps her see the world through his eyes.

*This book is the 1935 Newbery Medal winner.
---
I really loved this book. It is just a delightful story and the pictures are charming as well. :) I bought this book during a vacation to Tennessee this summer; it was one of the Newbery Medal winners that I'd had trouble finding.
---
Today I mailed this book to harmaja in the U.K. Enjoy!
---
I received four (!) Newbery medal winners from raralovestoread - thank you! This will greatly help me with my challenge! I never seem to find these books myself, either from bookshops or second-hand book stores.

I read Dobry right after finishing Secret of the Andes. I agree with raralovestoread again: Dobry was a delightful read in many ways! The narrative style is very original, and the village life both charming and slightly crazy (the snow-melting competition! the crusifix dive! the massaging bear!). I also liked the illustrations, they were original as well, rather that pretty on the usual children's book style.

However, I had pretty much the same reservations concerning Dobry as I had with Secret of the Andes. Peasant-boy Dobry is not exactly a noble savage, but he is described as a "primitive genius". The reader is constantly reminded that before Dobry has received formal training in art, his work is always "crude" but filled with "vitality". But why does untrained hand need to be "crude"? And why is a peasant necessarily more full of life than a city boy? Dobry's village is described so ideal, primitive and close to nature, that it all seems almost a little condescending; like the village folk are a little bit simple as well, happily ignorant of the burdens of civilization and better off for it.

On a side note: as a Finnish person, I found it hilarious that icicles in chest hair should be the mark of prime masculinity in a Bulgarian man. :-) And as another side note: "Dobry" means "Good", right?

A very enjoyable read, and yet another Newbery medal winner to be crossed off my list! I'm really enjoying this process! Thanks again, raralovestoread! I believe I'll pass Dobry on to another Newbery medal book reader, hopefully soon.
---
Journal Entry
5
by
harmaja
at
-- Controlled Release, -- By post or by hand/ in person -- United Kingdom on Saturday, March 14, 2009
Released 12 yrs ago (3/14/2009 UTC) at -- Controlled Release, -- By post or by hand/ in person -- United Kingdom
CONTROLLED RELEASE NOTES:
CONTROLLED RELEASE NOTES:

Sending to Annelis.
---

I got two Newbery books today. That is wonderful. Thank you very much, Harmaja and Raralovestoread! One of our neighbours is from Bulgaria and his son is one of the friends of my son. I never visited Bulgaria, yet.
After reading the book, I'll let it continue its travels.

---

This book is a description of country life very different from the Finnish country life. I grew up in th e country a long time ago, but the life in the Central Finland was very different from the life style told in this book.
Some of the strange things: buffaloes, oxen with charts, snow melting competition, storks, eating dried sparrows, different clothes, strange berries and food. it was all very interesting. This was a very exotic story for me.
This is my # 23 in
"KEEP THEM MOVING 2011" Challenge
arranged by Booklady331.
This is my # 22 (100) in
"REDUCE MOUNT TBR 2011" Challenge
arranged by Dove-i-Libri.
---

The book came home with me from our meeting in Helsinki tonight.
Started reading in the metro on the way home, seems like a promising children book!

---