Recessional
Registered by
nikel27
of
-- Irgendwo / Somewhere --
,
Hessen
Germany on 4/22/2003
This book is in a Controlled Release!
2 journalers for this copy...

Andy Zorn is a gifted Chicago doctor. Until a rigged malpractice suit puts him out of business...
Involved in a pile-up on his way out of town, Andy's medical expertise still saves the life of a young woman, Betsy, even if he cannot stop the accident crippling her.
And when she reappears at the Palms retirement home for rehabilitation she is under Zorn's care once again. Only this time it is she who gives Zorn new life ... and love.
---

promised to WarEagle78/USA (November 2003)
---

Journal Entry
3
by
nikel27
at
Postal System (Ginsheim-Gustavsburg) in -- Per Post/Persönliche Weitergabe--, Hessen Germany on Wednesday, November 19, 2003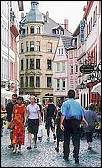 Release planned for
Saturday, November 22, 2003
at
Postal System
in Ginsheim, Hessen Germany.
send via a trade to Teresa
EnJoy the book
---

Received from nikel27 in a trade -- thanks! Will journal again when read.
---

Journal Entry
5
by
WarEagle78
at
Hoover, Alabama USA on Sunday, July 27, 2014

I have had this book around for many years, in fact it is one of the oldest Bookcrossing books I have in my home - I've had it since 2004. Yet when I picked it up this week to add to my entries in the LibraryThink Bookcrossing Mt TBR Challenge, I sped through it.

(Read more about the Challenge here: https://www.librarything.com/groups/reducemtbrchallenge2)

I love James Mitchener, although in general I have to be in the mood to tackle one of his tomes. Recessional was different. It is a tighter story than his general sweeping tale of a place (think Tales of the South Pacific or Hawaii). The story of a doctor running from his profession due to lawsuits and high insurance premiums, it becomes a panorama of an upscale Florida retirement community. The residents and staff are fascinating, the backstory of making such a community popular and profitable interesting as well. My parents are in just such a community, although not in Florida, and what I read rang true in many ways. Michener adds his love of place in the descriptions of the flora and fauna of the Tampa community, and I found those portions of the story rewarding as well. Many of the vignettes of the residents left me teary-eyed. This book may not be for everyone, but I found it well-written and enjoyable.

I will be moving it along soon.
---

Journal Entry
6
by
WarEagle78
at
Hoover, Alabama USA on Sunday, August 10, 2014
In mail to Florida in a paperbackswap.com transaction.
---