There's Always Plan B
1 journaler for this copy...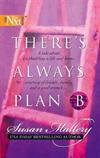 Bought today at Bibles for Missions, one of 10 books for $6. TBR
From the front cover:
THERE'S ALWAYS PLAN B
A tale about (re)building a life and home, courtesy of friends, family and a good wrench...
Susan Mallery
USA TODAY
BESTSELLING AUTHOR
From the back cover:
HARLEQUIN Next
Every Life Has More Than One Chapter
SUSAN MALLERY makes
her
home in Southern California where the eccentricities of a writer are actually considered normal -- what a relief!
Carly Spencer, former perfect wife, was changing her agenda...
Because Plan A -- be a stay-at-home mother and wife to a successful executive -- had come crashing down. And left her with no money, a surly fifteen-year-old daughter and a burning need to start again.
WHICH BRINGS US TO PLAN B... home to Chatsworth-by-the-Sea, her stately (or so she remembered) birthplace. Only, Carly and the old home had one thing in common -- a need for a makeover and some TLC. So what's a woman to do?
Get to work, for starters. And as she restored her house, she was beginning to find herself... a home...
TheNextNovel.com
---
Gave this a try some time ago but couldn't get into it. Now Available.
---