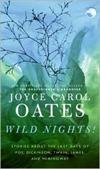 Wild Nights!
Registered by

jlautner

of
Henderson
,
Nevada
USA on 12/22/2008
2 journalers for this copy...
Received from Quality Paperback Book Club the other day.
---
I don't think I am the best qualified to review this particular book. Although I have read work by all of the American authors involved they are not my favorites and I don't have a really close feel for them.

Oates has created stories featuring five authors: Poe, Dickinson, Twain, James, and Hemingway - and in each she writes in the style of the author. She also aims to take the viewpoint of each. The stories are alternative bits, "what-ifs" in a way. She takes Poe to a deserted island where he takes over care of a lighthouse. Dickinson is re-created in a strange robot creature purchased by a couple wanting to connect with the famous poet. Twain gets close to young boys. Henry James volunteers at a hospital during the war. And Papa Hemingway tries to survive in Ketchum, considering ending his life and doing more than contemplating the end of his wife's life.

Some parts are funny and all are clearly written in the style of the writer involved in one way or another. I found the Poe "diary" funniest in this respect, with the exaggerated style rather popular in his day. The Dickinson story is not written, really, in Dickinson's style but we do hear from the funny little Emily robot, speaking words she might have spoken in that situation.

I was not entranced but rather a bit intrigued. I hope that somebody gets to read this next who has greater familiarity with some of these writers.
---
Reserved for bookstogive's VBB.
---
Sending to perryfran, who chose it from the general lit book box.
---

Received today. Thanks for the fast shipment...look forward to reading this!
---