Nie wieder Tequila
5 journalers for this copy...
Eine der wunderbaren Krimi-Ausgaben des Haffmans-Verlags aus der Vergangenheit. Kinky Friedman ist nicht nur Krimi-Autor, sondern auch Bandleader der Texas-Jewboys. Und genau die Mitglieder der Band hat er hier zu Opfern gemacht. Ein dialogorientierter, ironischer Hard boiled Krimi. Nicht so recht mein Fall. Aber sicherlich der von jemand anders.
---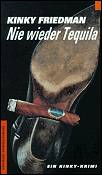 Beim RheinRuhrMeeting "eingefangen". Muss ich noch lesen.
---

Nach ein paar Wochen auf meinem (wirklichen, real existierenden) Bücherregal ist dieses Buch nun endlich gelesen worden. Ich hatte mich schon die ganze Zeit gefragt, woher mir der Name
Friedman
so bekannt vorkam. Irgendwann ging mir auf, dass das was mit meinem Studium zu tun hatte, und klicke da:
Tatsächlich!
Hier handelt es sich aber um einen anderen Friedman, und zwar um Kinky Friedman. Er ist ein jüdischer Country-Musiker a.D., betätigt sich als Privatdetektiv und noch dazu als Ich-Erzähler dieser Geschichte. Er war früher
on the road
mit den
Texas Jewboys
, und findet sich nun allein mit seiner Katze in New York in eine furchtbare Situation verstrickt: Tequila, eines seiner Ex-Band-Mitglieder, wird in seinem Appartement getötet, und so nach und nach versterben die
Texas Jewboys
auf mysteriöse Art und Weise. Zusätzlich muss sich Kinky um die attraktive Tänzerin Kelli kümmern, die von ihrem Ex-Freund bedroht wird. Zuviel für einen Mann: Kinky findet Unterstützung im Boulevard-Journalisten McGovern.
Obwohl mein persönliches Motto eher lautet
"Nie wieder Ramazotti"
, mag ich dieses Buch; der Touch von Philosophie, der immer wieder Kinkys Überlegungen umspielt, und das Zusammenspiel des jüdischen Musikers mit dem irischstämmigen Journalisten McGovern geben diesem Buch eine sehr eigene Note.
---
Journal Entry
4
by
Herrundmeyer
at
mailed to a fellow bookcrosser (Gelsenkirchen) in -- Per Post geschickt / Persönlich weitergegeben --, Nordrhein-Westfalen Germany on Saturday, June 28, 2003

Released on
Saturday, June 28, 2003
at
mailed to a fellow bookcrosser
in Gelsenkirchen, Nordrhein-Westfalen Germany.
Per Post unterwegs zu
lovemylife
in den USA. Viel Spaß damit!
---
I have read this book and others by Kinky Friedman and enjoyed them. We'll see if it reads as well in German as it does English. Thank you, herrundmeyer.
---
I think I'll stick to reading Kinky Friedman in English. To me the translation seemed too stilted; it just didn't flow right. Of course, it's been 50+ years since I lived in Germany and I imagine the language has changed since then, become more Americanized. Anyway, I did not like this book in German. It will be sent to zoe1971 shortly.
---
This book never did get to Zoe1971, but she won't mind. Instead it is on its way to Nikel27 even as I write.
---

---

Journal Entry
9
by
nikel27
at
Post Office in BookRelay Side, Ginsheim -- Controlled Releases on Wednesday, July 28, 2004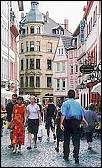 Release planned for
Monday, August 02, 2004
at
Post Office
in BookRelay Side, Ginsheim Controlled Releases.
EnJoy the book !!!
---
Just got here, back across the ocean again. I'll journal more upon reading. Thanks!
---