All The Pretty Girls
2 journalers for this copy...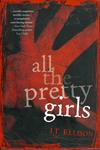 From Back

PUREST EVIL IS BORN OF PRIVATE SECRETS AND PUBLIC LIES...
The southern Strangler is speeding up his gruesome game. He's becoming careless, but not careless enough: three bodies and still the only clue is his calling card...the severed hand of his previous victim.

Each one has been a beautiful young girl - killed in one city, dumped in another, the latest in Nashville. What did they have in common, what could link them to a savage serial killer?

As the Strangler's murderous rampage through America's South East gathers pace, local homicide chief Taylor Jackson and FBI profiler Dr John Baldwin, are at a loss. And a media leak is making matters worse.

Ambitious TV reporter Whitney Connolly knows she's onto a scoop that just might be her ticket out of Nashville. But she's not going to tell. She's going to keep quiet until the time is right...guard her secret well. Though Whitney should know already that secrets come at a price, this time she has no idea what it will cost her, or how close to the story she really is.
Comment

This is a paperback edition published in 2007. This edition contains 351 pages.

---

This was a thrilling book that I was unable to put down. The characters were believable, as was the storyline. It wasn't so much thrilling as suspenseful. All the way through I was able to feel with the police who were responsible for trying to catch this killer. The biggest problem for police in catching serial killers is that there is very little they can do until the killer slips up in some way, and this is the problem faced in
All the Pretty Girls
. The motive for the murders was certainly a novel one, though.
******************************************************************************
Released outside the Bulletin in Quay Street, Rockhampton, Qld on 21 August 2008 & caught before I could make release notes :-)
Ultimate Challenge 2008 - No Theme
2008 Leap Into the Wild 366 - #165
2008 Chills & Spills Challenge - Psychopaths
---

Journal Entry
3
by

AnonymousFinder

on Wednesday, August 20, 2008
Wow.

CAUGHT IN ROCKHAMPTON QLD AUSTRALIA
---