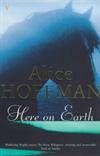 Here on Earth
4 journalers for this copy...
Removed from the collection of a library. To be releaced.
---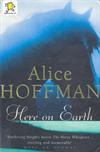 Back cover:
'When March returns to her childhood home to attend a funeral with her teenage daughter, she revisits the raw passion of an unrequited love. Abandoning her marriage and her own interests to resume an affair, she discovers her former lover is a collector, a modern Bluebeard with violent tendencies. A gripping novel that evokes the tensions of small-town life.'
Elle
'There is something irresistible about the novels of Alice Hoffman. Her themes of love, marriage, family and friendship are reassuringly familiar and her style agreeably evocative... Her stories have a quality of mystery and even darkness that puts a fresh spin on the commonplace, and at its very best can make the reader look at life from a fresh angle. If I could see things through Hoffman's eyes, I'm convinced life would be richer and more interesting... Here on Earth is a wonderful piece of storytelling.'
Literary Review
'Imagine Wuthering Heights set in a small New England town during the last 30 years. The characters escape not to wild moors but marshes haunted by foxes and souls of drowned men... compelling.'
Independent
I got the book at the BC-meeting in Helsinki and I intend to read it the near future. Thank you, Rakuna!
---

Well, I can't say that this day is in the near future, but I read the book. Better late than never!
This story somehow fascinates me even if the persons don't seem real to me. And if they would be real I wouldn't like to meet them. And they would not like to meet me because they are not interested in other people.

This is my book #38 in the Reduce Mount TBR -challence by Dove-i-libri
http://www.bookcrossing.com/forum/23/537755/8891863/

Book #32 in the 2017 Keep Them Moving -challence by Booklady331 http://www.bookcrossing.com/forum/23/537530/8896042

I took the book to postoffice 16.2.
---

---

En bok på vandring!

Välkommen till bookcrossing!
Kul att du har tagit hand om den här boken. Skriv gärna en rad om vad du tänker göra med den, så får de som tidigare haft hand om boken ett besked. Det går bra att vara anonym, men man kan också bli medlem, det är gratis och då kan du jaga fler böcker. Släpp gärna iväg den här boken när du är klar med den så att får den fortsätta sin resa.

Funderingar och mer information? Titta in på det skandinaviska forumet: http://www.bookcrossing.com/forum/31.


---

Journal Entry
6
by
Panzeranzi
at
Göteborg, Västergötland Sweden on Sunday, January 27, 2019
Thank you!
---