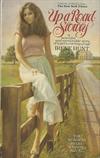 Up a Road Slowly
Registered by

hyphen8

of
Honolulu
,
Hawaii
USA on 7/25/2008
5 journalers for this copy...

---

Part of spacedog's Newbery book rings, round 5.

This is the list:

knitwit (PA)
dancing-dog (TN)
yokaye (TN) <- book is here!
spacedog (MA)
tostle (UT)

PM'd knitwit today to get things started!

Important: this book was a bit musty-smelling and I tried to reduce the smell using baking soda. Then I tried to get out as much of the baking soda as I could. There may still be some residue left but I hope it doesn't bother anyone too much.
---

CONTROLLED RELEASE NOTES:

Sending to knitwit as part of round 5 of spacedog's Newbery book rings.
---
Arrived safely yesterday. I shall read it as quickly as I can and pass it along. Thanks for sharing hyphen8!
---
A very heartwarming coming of age tale about a young girl. The crises in life were pretty small and her family was incredibly supportive so the book wasn't overly dramatic but it was a good book and I enjoyed it.

On to dancing-dog on Saturday, 11 October 2008 (I hope!)
---
It's arrived in the Memphis area and just begs to be read! I do like coming of age stories so I'm sure this is just up my alley. Almost done with my current read so this will be next!
---
Well .... unfortunately I wasn't overly impressed with this book. For one thing, it bothered me that I couldn't quite ascertain the era in which the story takes place. The characters seemed to hold values of a bygone era (the importance for a woman to keep her house clean, the idea that it's a man's world [I think Uncle Haskell said that] & the notion that the aspiration of all young girls is to get married and become a good wife) and seemed old-fashioned even within the context of the story. I wanted to know more details regarding Julie's mother - so I could understand Julie's actions and emotions, especially early in the book. And I guess I wanted a little more drama - it seemed like some of the things that Julie reacted to were often trivial (I thought she was a little oversensitive, although not due to being egotistical, as suggested by one of the characters)- and a little less predictability (of course her family didn't like Brett). Although some characters were well-developed (Aunt Cordelia for example), others were not (her brother Chris, her father) Also I wanted to see more of a plot line develop around Aunt Cordelia and Jonathan Eltwing - everyone seemed just a little stifled and repressed in this book to me. Not quite what I expected for a Newbery winner, based on the winning books I've read so far.

Reserving for the next reader while I read the other book traveling with it.
---
Journal Entry
8
by
dancing-dog
at
By mail, A Bookring -- Controlled Releases on Monday, November 17, 2008
Released 10 yrs ago (11/17/2008 UTC) at By mail, A Bookring -- Controlled Releases
CONTROLLED RELEASE NOTES:
CONTROLLED RELEASE NOTES:

spacedog asked to be skipped so on the way to yokaye
---

arrived safely! Is next on my reading list. :)
---

This book has washed ashore at the Lost Book Island after not being heard from for many months. This new arrival will be shown to a room and be allowed a bit of rest before being introduced to the many fun things to do here at the island.
All around there are books sipping cool drinks under shady palms while other books participate in a wide variety of beach sports. There is plenty of sand, surf and sun here for all of the lost and wayward books to enjoy.
It is hoped that very soon a new journal entry will come to rescue this book from the island and send it back out into the BookCrossing world so that it may continue on its journey. It is hoped that the new journal entry will tell all the interested parties where this book has been this long time and where it will be traveling to next.
---