Case Histories
Registered by

ardachy

of
Ipswich
,
Suffolk
United Kingdom on 6/18/2008
5 journalers for this copy...

Purchased from the Puffin Pool charity shop in Dingwall, Scotland.
---

I approached this book with interest having read and enjoyed 'Behind the Scenes at the Museum' by the same author but having been unable to get into 'Human Croquet'. This one is quite grim in places although not lacking in some humour , it is rather complex and perhaps best read in large chunks as you could easily lose the thread if read in short sessions.
---

Released 10 yrs ago (8/28/2009 UTC) at
CONTROLLED RELEASE NOTES:
CONTROLLED RELEASE NOTES:

Posted to Releanna as a RABCK.
---

WOW! what a totally unexpected and wonderful surprise :)
I have read and quite enjoyed "Human Croquet" and am looking forward to reading this one!

thank you so much, Ardachy!
---

this was a very captivating read. I liked how the different plots were woven together. It is a tragedy and a comedy, sometimes rather depressing, sometimes rather funny. Very well written, very vivid characters
---

Journal Entry
6
by
Releanna
at
To another bookcrosser, Pay-It-Forward-RABCK -- Controlled Releases on Friday, January 22, 2010
Released 9 yrs ago (1/22/2010 UTC) at To another bookcrosser, Pay-It-Forward-RABCK -- Controlled Releases
CONTROLLED RELEASE NOTES:
---

Journal Entry
7
by

ApoloniaX

from
Prenzlauer Berg
,
Berlin
Germany on Friday, January 29, 2010

Just received this book in the mail - through the
European Pay It forward Bookrelay
.
I never read anthing by Kate Atkinson - and finally here's my chance, brilliant.
Thanks for offering it at the bookrelay, Releanna!
---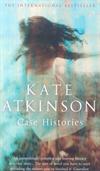 This book has been hanging around on Mt. TBR far too long, but finally I got around to reading it. And found it quite unputdownable (no chance NOT to read it in large chunks). Well written, very powerful. There is so much pain and grief and sadness in this novel - not even the detective is spared, but Atkinson is never overdoing it. And interspersed it with subtle humour. The stories are tricky, with some twists and turns, details are withhold, then suddenly turn up, but then after a while things aren't to hard to guess. And maybe she shouldn't have given the dates and ages. The protagonists make up for it, great characterisations. Highly recommendable.
29 June: Reserved for Moriquen.
(Xana was also interested, but you were 50 minutes earlier, Moriquen! If you don't mind passing it on....)
---

Journal Entry
9
by

ApoloniaX

at
Brugge, West-Vlaanderen / Flandre Occidentale Belgium on Saturday, July 09, 2011
Released 8 yrs ago (7/16/2011 UTC) at Brugge, West-Vlaanderen / Flandre Occidentale Belgium
CONTROLLED RELEASE NOTES:
Given personally to Moriquen during the Brugge meet-up.
Happy reading!
---

Thanks for reserving it for me! And of course I have no problems sending it to Xana after I've finished with it. I'd be more then happy to do so!
---

Hmmm, this book didn't really do it for me at all. Some of the plots were very obvious while others were dreary and uninteresting. It's a shame, because I had rather high hopes for it. Perhaps there was a little too much middle aged drama in it for me. (All of the characters seem on the verge of some kind of midlifecrisis and they're dealing with it very badly.)
But thanks for handing it to me ApoloniaX. You never know until you've tried it! I'll try to contact Xana again to see if she still wants the book!
---

On its way to Xana! I hope you'll enjoy the book!
---
Journal Entry
13
by
Xana
at
Bruxelles / Brussel, Bruxelles / Brussel Belgium on Thursday, March 28, 2013
It arrived safe & sound! Many thanks Moniquen for remembering that I really wanted to read it :)
---