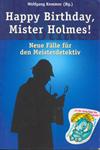 Happy Birthday, Mister Holmes!
3 journalers for this copy...
"Nun Watson, wie gefällt Ihnen die neue Anordnung des Raumes?"

Was passiert, wenn acht renommierte deutschsprachige Krimi-Autoren Sherlock Holmes zu seinem 120. Geburtstag hochleben lassen? Sie schenken ihm Kurzkrimis.

Viel Spaß!

P.S. Es handelt sich hier um eine Sonderausgabe von Jokers Restsellers, die im Handel nicht erhältlich ist.
---
Darf als Bestandteil von Leselieses Europa-Krimibox andere Leser erfreuen.
---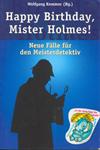 Produktbeschreibungen
Sherlock Holmes ist ohne Übertreibung der berühmteste Detektiv der Kriminalliteratur. In einer Branche, in der Mord und Totschlag Programm sind, hat er es zur Unsterblichkeit gebracht. Denkmäler, Museen und Fanclubs rund um den Erdball künden von seinem Ruhm. Seinen Erfinder Arthur Conan Doyle, der einst vergeblich versuchte, ihn in den Reichenbachfällen umzubringen, hat er längst überlebt. Jetzt feiert der geniale Ermittler seinen 120. Geburtstag.
Grund genug, dass sich acht renommierte deutschsprachige Krimi-Autoren auf die Spuren des Superhirns begeben haben und ihn in ihren Kurzkrimis hochleben lassen.
The postman has brought some books again! Thank you for the book!
---

Ich kann nicht auf Deutsch schreiben, sorry.
I really liked these stories. They are very good. I think they have been written in German and cannot be found in English at all.
My sleeping German woke up and I think I understood about 90-95 per cent of the text.
I was very pleased by myself!
This is my #98 (100) in
"REDUCE MOUNT TBR 2010" Challenge
arranged by DoveiLibri.
---

---
Kirja tuli tänään postissa. Kiitos!
---