The Vagabonds' Bordello
1 journaler for this copy...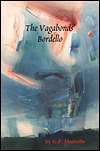 Focusing on what remains untouched and what can't easily change, the fifteen short stories of this book most serve as shortcuts of daily life.
"Ascension": An architect explores a building of her own designed, among an anonymous crowd.
"Part Man, Part Product": A man that marked the century with his invention is trying to escape -or maybe not?
"The Bottle": How one visit in a stranger's house can change your last wish.
"A Night at the Strip Show": Where flesh meets flesh, but not exactly.
"Satori in Antwerp": A walk in a city through one's foggy mind.
"The Visualisation": Trying to find the meaning of objects left outside the door of your rented house and what happens if you try and follow the signs.
"Our Story": How words can produce love between a man and a typewriter.
"Dream Days at the Bookshop `Kermadec'": An employee of a bookstore and the postponed oracles of a shared past.
"Call Me Etter": If newspapers are society's mirror then what is a mind?
"A Weird Dream About Paris": How can you escape from a dream when you have to focus on your personal reality?
"Don't Leave Me Alone in Wonderland, Alice": Memories of childhood can haunt you every day.
"A Day At the Circus": Moving crowds of no purpose towards a fiesta.
"Oh, Sally": Just after 08:46 nothing will be the same anymore.
"Night Train": Travelling through an inconvenience.
"Strange Clouds Over the Attic": The meeting point of lost Masters and the way things might look from up there.
At last, there is "The Vagabonds' Bordello". It's the place where everything and everyone comes together, a novella beneath the night sky, where no one is lost or forgotten or haunted anymore. It's the little rebellion of a crew in a city where no one pays attention to them; it might last only one night, but that night is a good one for the ones participating -or at least, that's what their screams are portraying, while a lonely dog watches them with a single word in his mouth.
---