Musk
7 journalers for this copy...
Journal Entry
1
by
UFK-537438
on Thursday, April 24, 2008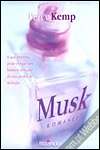 Editor: Bizâncio
Colecção: Montanha Mágica
ISBN: 9789725301883
Ano de Edição/ Reimpressão: 2003
N.º de Páginas: 134
Encadernação: Capa mole
Dimensões: 16 x 24 cm
Até onde podemos ir por causa de um perfume? Para a generalidade das pessoas um prefume é um acessório, um luxo, umas vezes inútil, outras supérfluo. Mas para o Senhor Eme, o heroí de Musk, o perfume é muito mais que isso. Modelo de elegância, sobriedade e bom-gosto, desde muito cedo o Senhor Eme percebeu que o perfume de sua eleição lhe dava um poder de sedução avassalador junto do sexo oposto. Até ao dia em que - maldição - descobre que Musk mudou. Um novo frasco, uma nova fórmula. Espoliado da sua essência, o senhor Eme depressa descobre que não pode viver sem o seu perfume. Então, que fazer?
http://www.segredodoslivros.com
---
Journal Entry
2
by
UFK-537438
on Saturday, June 28, 2008
E está.
Gostei, é divertido, mas tem um final que me deixou meio estranha.

---
Journal Entry
3
by
UFK-537438
at
Coimbra (cidade), Coimbra Portugal on Thursday, July 17, 2008
CONTROLLED RELEASE NOTES:

Rabck comemorativo do meu aniversário!

-----------------------------------------------
Live to Share - Share to Live
---

Journal Entry
4
by

AnonymousFinder

on Tuesday, August 05, 2008
Chegou à uns dias, estou a lê-lo :)

CAUGHT IN ANGRA DO HEROÍSMO AÇORES PORTUGAL
---
Chegou à uns dias, estou a lê-lo :)
---
Já chegou!!! Apesar da pilha de TBR estar a aumentar, vou tentar ser breve.

Obrigado pela partilha.

Libelinhar



---
Não gostei muito do livro, talvez pelo final... achei um pouco estranho.
Seguiu hoje para a Patricialeao.

Obrigado pela partilha!!!
---
E chegou hoje à sua nova estante.
fbeatriz, obrigada pelo livrinho.

Beijinhos
---
Vai para o BC do mês...iniciativa da B-noir.
---
Obrigada linda! Tenho a sensação que vou gostar, parece o meu estilo :)
---
Já terminei! Gostei no geral. Obrigada PatriciaLeao.
Está disponível para novas viagens.
---
Apanhado ontem no pic-nic BC :)
---