Perfect Match: A Novel
5 journalers for this copy...
From Publishers Weekly
One plot element¢a case of child molestation involving a Catholic priest¢in Picoult's latest novel (after Salem Falls) now seems eerily prescient, but that's only part of the saga she weaves, which is primarily an indictment of the current criminal justice system. Nina Frost, an assistant district attorney in Maine, knows how hard it is to obtain a conviction for a sex crime when the victim is a juvenile, so when her five-year-old son, Nathaniel, identifies their priest as being the man who raped him, Nina's grievances with the system become personal. Frustrated by the threat of an unsatisfactory legal outcome, she takes the law into her own hands, killing the priest in open court. Awaiting her own trial, a startling fact emerges from the DNA: the priest was innocent. Will Nina be able to prove to a jury that her actions were justified, particularly since she killed the wrong man? Picoult adeptly renders Nina's feelings¢impotence, guilt, the drive for retribution¢but Nina is herself an unsympathetic heroine, from her initial accusation of her husband to her arrogant vigilante stance, which does little to persuade the reader that an act of premeditation should be recast as maternal instinct. While the argument that the current system is flawed is solid, the only alternative offered is an iffy form of frontier justice that many readers may find unpalatable.
---
Journal Entry
2
by
michyj
at
Pacific Pines Tavern in Gold Coast, Queensland Australia on Saturday, January 17, 2009
Released 10 yrs ago (1/17/2009 UTC) at Pacific Pines Tavern in Gold Coast, Queensland Australia
WILD RELEASE NOTES:
WILD RELEASE NOTES:

I have 2 copies of this book, so will bring this copy to the Gold Coast Meet Up as it is always easy to find a Jodi Picoult fan to give it to!
---
Found it on my first GCBC-meetup.
Had lots of fun - thank you!


---
This was my first Picoult book. I read it nearly in one day, so it must have been interesting enough, though I won't say she is my favourite author. (The writing style and the story reminded me of another author, but can't remember which one.)
---
Journal Entry
5
by
Tinina67
at
Postal, RABCK Raffle winner -- Controlled Releases on Wednesday, July 08, 2009
Released 10 yrs ago (7/8/2009 UTC) at Postal, RABCK Raffle winner -- Controlled Releases
CONTROLLED RELEASE NOTES:
CONTROLLED RELEASE NOTES:

I hope you enjoy this book!
---

The book arrived this week... It was a long journey, 3 months! =)
*** Thanks for your generosity Tinina! ***
---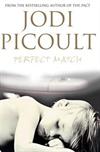 This book will travel in a Portuguese BOOKRING to these Bookcrossers:
-
FallenAngels
-
micazy
-
Mraianita
-
LauMaia
-
Tauina
...
Enjoy! =)
---
The book has just arrived and it's safe with me...Thanks!!
---
Another excellent book by Jodi Picoult. The way Picoult writes, makes the reading really fluid, even when she manages to change from the main character speach to the narrator speach. As in other Picoult's books, we start to meet the characters, with a serene life, where the days go by between familly and work, until one day the unthinkable happens and eveything falls apart. Do I agree with what Nina and her husband did? No, absolutely not. Which doesn't mean I haven't loved this reading.

Seguiu para micazy...Obrigada e desculpa pela demora!!
---

---

Once more, a great story from Jodi Picoult. She's one of my favourite writers. Her books really make me think. What's right, what's wrong, what would I do? From a mother's view it was hard to read this one. But also got very important messages!
"Life, it turns out, goes on. There is no cosmic rule that grants you immunity from the details just because you have come face-to-face with a catastrophe. The garbage cans still overflow, the bills arrive in the mail, telemarketers interrupt dinner".

25.02.2011 - Mraianita didn't answer my pm's, sent today to LauMaia

---