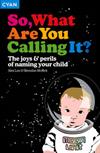 So, What Are You Calling It?
Registered by
LeishaCamden

of
Alna bydel
,
Oslo fylke
Norway on 3/18/2008

This Book is Currently in the Wild!
1 journaler for this copy...

Journal Entry
1
by
LeishaCamden

from
Alna bydel
,
Oslo fylke
Norway on Tuesday, March 18, 2008
Subtitle: 'The Joys and Perils of Naming Your Child'.

From the back of the dust jacket:

'"About to name your child? Read this book immediately and stop them being embarrassed for life!"
Mark Frith, Editor, heat magazine'

From the front inside flap of the dust jacket:

'If you reckon having a child is a big responsibility, how about naming it? Think of the power that lies in your hands. Choose the wrong name and your beautiful bouncing baby could face a lifetime of taunts and derision. From the moment she was born, the world of corporate affairs was for ever closed to Moon Unit Zappa (and doubtless her dad Frank wanted it that way). Maybe David Bowie thought that being the target of playground ridicule would toughen up his son Zowie. But if you aren't a rock star, and would prefer not to incur your offspring's eternal resentment, this is the book for you.

Blighting an innocent child's life is only one of the pitfalls. You don't want to choose a bland name that no one will ever remember, or one that people can't pronounce or spell, or one so common that when you shout it, every child in the park comes running. Alex Lee and Brendan Moffett have been there, done that and bought the T-shirt, and now share their accumulated wisdom (and their hoard of truly dreadful jokes) to save you weeks of agonizing and years of regret.

We all want our children to do well, be happy and make lots of friends. The least we can do is take the trouble to find them a name that isn't daft, too long, too short, irrelevant, unsuitable, ridiculous, embarrassing, banal, crazy, meaningless or pretentious. Here's how.'

From the back inside flap of the dust jacket:

'About the authors
Alex Lee and Brendan Moffett have worked in publishing and broadcasting for over 15 years. The idea for this book came to them at a long Christmas lunch a couple of years ago when an expectant mum revealed her good news. "So, what are you calling it?" was the cry from around the table. What followed was two hours of fierce debate about the rights and wrongs of her shortlist. They felt compelled to explore further, and this book is the result.

""

'I can thoroughly recommend this book to any couple who are about to become parents. Naming a child is one of the most important things you'll ever do and this is the first book I've found that treats the issue so sensitively and comprehensively. I can't thank you enough.'
Zank Frappa

'Never before have I encountered such an entertaining tome. Even if you're not planning a baby, buy it straightaway. It's quite simply the most amazing book I've ever read in all my life.'
J.R. Hartley (age 108)

'Before reading So, What Are You Calling It?, I thought I had a stupid name and intended to give my child an even worse one to make him suffer the way I did as a kid. I have now seen the light and will call him Yorick.'
Mike Hunt'

This is a hardcover copy from 2005, published by Cyan Books. The book is completely black with nothing printed anywhere. Not even on the spine. Fortunately it has its dustjacket.

This book was on sale and looked really funny, so I bought it. Having skimmed through parts of it I can say that it really *is* very funny. :-)

I bought this book sometime last summer, in July I think ... at Tanum in Byporten mall in Oslo.
---

Journal Entry
2
by
LeishaCamden

at
Alna bydel, Oslo fylke Norway on Friday, August 27, 2021
I finally got around to reading this book. I've changed a lot as a person over the past ten years or so and as a result I no longer find this book particularly funny at all. That's how it goes. It was somewhat entertaining but not really funny. Oh well. Now it's time for it to travel.
---

Journal Entry
3
by
LeishaCamden

at
Litteraturhuset in Oslo Sentrum, Oslo fylke Norway on Friday, August 27, 2021
Released 8 mos ago (8/27/2021 UTC) at Litteraturhuset in Oslo Sentrum, Oslo fylke Norway
WILD RELEASE NOTES:
Left the book on a table by the entrance
---