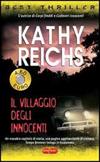 Il villaggio degli innocenti
2 journalers for this copy...
Dalla quarta di copertina:
"Nella sua carriera di antropologa forense Tempe Brennan ha visto molti orrori, ma il caso che la porta in Guatemala è certo tra i più strazianti:recuperare i cadaveri di donne e bambini massacrati vent'anni prima da soldati obbedienti alla dittatura militare. Una macabra pagina di storia, una spirale d'angoscia che sembra non voler abbandonare gli abitanti, ancora persegutati da omertà e delitti. Nella capitale intanto sono scomparse quattro ragazze, uno a uno vengono ritrovati i loro cadaveri: prede così avvio un'indagine che metterà a dura prova l'abilità investigatrice di Tempe, ma anche la sua straordinaria umanità. Chi può costringere una ragazza a sacrificare un figlio a folli esperimenti genetici? Chi può dimenticare di aver visto torturare e uccidere in nome della pulizia etnica? In un crescendo di drammatici sospetti Tempesegue ogni indizio fino alla scoperta di una verità impossibile da prevedere, e molto difficile da accettare: un commercio di cellule staminali. Ancora una volta Kathy Reichs sa utilizzare la sua esperienza professionale per creare una storia agghiacciante e avvincente, dove gli scenari maestosi e inaccessibili di un Paese di grande fascino diventano lo sfondo di un intrigo che cattura, colpisce, terrorizza."

Traduzione di Alessandra Emma Giagheddu

E' il quinto volume delle serie di Tempe Brennan.

Un romanzo avvincente e pieno di soprese, per la dott.ssa Brennan e i suoi colleghi un'altra storia intrigante, ambientata in un paese totalmente diverso dai loro soliti luoghi di lavoro, le cui vicende storiche più o meno recenti influiscono ancora pesantemente sulla vita dei suoi abitanti e restano per lo più non risolte.
---
Journal Entry
2
by
mikime
at
-- Da qualche parte in città - somewhere in the city in Roma, Lazio Italy on Thursday, September 16, 2010
Released 11 yrs ago (9/16/2010 UTC) at -- Da qualche parte in città - somewhere in the city in Roma, Lazio Italy
WILD RELEASE NOTES:
Lasciato sulla mensola della sala da tè OBCZ "Fiorditè", via Raffaele de Cesare 98, Roma.
Congratulazioni, hai trovato un libro bookcrossing! :)
Se vuoi, lascia un commento su dove e come hai trovato il libro, e dopo averlo letto lasciane un altro per dire come ti è sembrato. Buona lettura!
Questo libro è stato liberato in occasione del 15 Settembre 2010, in cui ricorreva il 120° anniversario della nascita di Agatha Christie.
clicca qui per il thread nel forum bookcrossing-italy
.
---

Journal Entry
3
by

OBCZ-Fiorditè

at
Fiorditè sala da thè in Roma, Lazio Italy on Tuesday, September 21, 2010
la sala da tè( e quindi la OCZ) effettua il seguente orario 9,30/13 e 16/19,30
---