The Ages of Lulu
5 journalers for this copy...

I'd heard loads about this book, so picked it up in a charity shop when I saw it. Not the usual thing I read, but it was ok. I'm sure all my friends now think I'm into erotic novels though!

Sending to:
Bookchick88 -US
Perryfran - US
Okyrhoe - Greece
---

Journal Entry
2
by

perryfran

from
Elk Grove
,
California
USA on Friday, March 28, 2008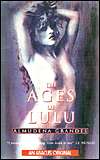 This was waiting for me when I returned from a spring vacation to Florida. Thanks lucy-lemon for sending it! I will try to read soon and pass it on to the next reader but I have a few bookrings in front of it. :-]
---

Journal Entry
3
by

perryfran

from
Elk Grove
,
California
USA on Friday, May 23, 2008
From Amazon.com:

Lulu finds that her erotic cravings are already powerfully established when, at 15, she is seduced by her older brother's best friend, Pablo. She has always been fascinated by the thin line separating decency and morality from perversion, and now Pablo gives her the courage to explore the darker side of her carnal desires. But as her forays become increasingly desperate, the world of illicit and dangerous sex threatens to engulf her completely.
---

I thought this novel was definitely erotic, but you end up really wanting Lulu to save herself. There were some very erotic parts like when Lulu's lover shaves her. However, as Lulu matures she gets into some very wierd activities, including some voyeuristic activities with gay men. Overall, I was glad I read it but I ended up feeling bad for Lulu and the excesses that she was driven to by the end of the novel.

Thanks lucy-lemon for including me in this bookray but sorry I took so long - I had several other bookrings pile up on me. I have Okyrhoe's address and will get this in the mail today.
---

Journal Entry
4
by

perryfran

at
Bookray in by mail, A Bookray -- Controlled Releases on Friday, May 23, 2008
Released 11 yrs ago (5/23/2008 UTC) at Bookray in by mail, A Bookray -- Controlled Releases
WILD RELEASE NOTES:
RELEASE NOTES:

Winging its way to Greece!
---

Arrived in my p.o.box today. Thanks lucy-lemon for including me in the ray, and perryfran for posting it to me.


---

I started reading this some weeks back, but was quite tired from work and decided to save the rest for later.
Well, yesterday I tripped badly and am now bed/sofa-ridden for the next week or so while my fractured metatarsal bone heals, and despite the pain it's an ideal opportunity to scale down my Mount TBR.
The story starts out with a short passage involving a woman of undetermined age & sexual orientation watching a porn film. The reader still is unaware that it's Lulu. Although confusing as a first chapter, it does introduce Lulu's unconventional personality, a woman with a vivid & unrestrained fantasy.
Then the story goes back in time to the 'proper' beginning, starting with Lulu's teenage encounter with the older Pablo. There's a comment Lulu makes in this passage, about the evening being a successful theory lesson, as well as the loss of her virginity (the theory being the post-Franco socio-political beliefs of Pablo and Marcelo). It is her first rebellion, breaking free from the fold of her family, becoming her own person, making her own choices.
Despite the unconventional adventures that follow in the rest of the narrative, when Lulu is now a married woman with a child, and the explicit description of the sexual encounters, the book is closer to a 'theoretical'story (realism) rather than 'fantastic' one (eroticism), centered on Lulu's personality as she matures from idol-struck teenager into an independent adult, rather than simply a lurid account of Lulu's sexual gratification.
Pablo becomes less likeable as the story progresses, and I'm still not sure whether Lulu's personal choices are meant to spite him, or if it's the author's intent to use Lulu's obessions (which result in ordeals rather than orgasms more often than not) as some sort of feminist commentary.
In the end, I do feel that Lulu's profile is not given its proper due, as if it's more of an exercise in 'theory' on the part of
Almudena Grandes
, a feminist-political statement about contemporary Spanish society, an expression of the fact that the time has come when women are able to write pornography - and this pornography is going to grate the bourgeios sensibilities -- a double provocation -- much like Catherine Millet's
book
is about a woman writing, more so than a tittilating tell-all memoir.
---

Some time ago I bumped the thread for this bookray in the forum. Spaceystacey expressed an interest, and I have the book all packaged and ready to be shipped. Hopefully a friend will help me out soon, by taking the pile of books to the post office for me, as I'm still in recovery.

ETA: Book posted July 25.
---
Received this read in the post over the weekend. Will be reading it before the end of summer and then sending back out on its bookcrossing way.


05/26/2009 Will as you can see, I did not get around to reading this one last summer. I did however read it last night/this a.m. before rising for work. Not my usual read at all but must say that I did end up feeling sorry for Lulu and her circumstances, though they did appear to be somewhat of a choice.

I have completed a wishlist search and will be mailing the book out shortly.
---

What a surprise! Spaceystacey, you are so good to me!!!
---