Maelstrom
3 journalers for this copy...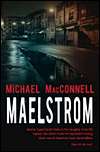 Special Agent Sarah Reilly is the daughter of an FBI legend. Her father made his reputation hunting down one of America's worst serial predators. Now it's her turn. A monster is cruising the east coast. One who has stalked the United States for three decades, claiming countless victims. A chameleon who has found a fatal flaw in the forensic profiler's art. At the same time, someone is hunting down and eliminating serial killers with mechanical precision. A hunter with uncanny skill, limitless resources and lethal determination. With the serial killer's interest in her growing, and the hunter drawing closer to his ultimate prey, time is running out. To save what is most precious to her, Sarah will have to enter the maelstrom or face her darkest fears.
---
This book is now accompanying The Women (a Bookring PLUS!)

If you would like to keep this book, please replace it with a book you personally rate at 7/10 or higher when you send The Women to the next reader.

please include these instructions in a journal entry for each accompanying book. Many thanks.

---
Again, not my genre, but I thought I'd document its travels as it goes with The Women Plus bookring.
---
Arrived with me as part of the Bookring Plus. I may keep this one - I will see when the time comes to send it on.
---