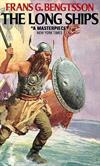 The Long Ships
Registered by

LeishaCamden
of
Alna bydel
,
Oslo fylke
Norway on 2/15/2008
2 journalers for this copy...

Journal Entry
1
by

LeishaCamden
from
Alna bydel
,
Oslo fylke
Norway on Friday, February 15, 2008
From the front cover:

''A masterpiece'
New York Times'

From the back cover:

'A splendidly robust saga of the Vikings ... crackles with humor'
Daily Telegraph

'A banquet of adventure by sea and land, with man-sized helpings of battle and murder, robbery and rape'
New Statesman

'Lusty and uninhibited ... a tour de force'
Evening News'

This is one of the most enduring classics of Swedish literature, originally published in two volumes in 1941 and 1945. It has been voted the third most important novel of 20th century Swedish literature. I haven't read it myself, and I don't plan to read this copy either - I have another copy in Swedish that I'm going to read. But I have heard only good things about this book. :-)

I'm going to turn this book into a ray or a ray it forward to give readers in other parts of the world a chance to experience this Scandinavian classic. :-)

This is a paperback copy with a rather cheesy cover - as shown :-) - published by Fontana in year unknown. The book was first translated into English in 1954.

I got this book at a flea market at Tåsen elementary school in Oslo on Sunday, May 13th, 2007. The book is in pristine condition, looks like it's never been read. We'll soon change all that ... ! ;-)
---

Journal Entry
2
by

LeishaCamden
from
Alna bydel
,
Oslo fylke
Norway on Friday, February 15, 2008
When I've read my Swedish copy, I plan to post some profound thoughts here. :-) Watch this space ...
---

Journal Entry
3
by

LeishaCamden
from
Alna bydel
,
Oslo fylke
Norway on Friday, February 15, 2008
Since there's no info about the story or plot in the blurb I will copy some readers' reviews from amazon.co.uk and post here.

***** This is by far the best book I've ever read!, 20 Feb 2001
By A Customer

As a Swede, if I were to recommend just one Swedish book, it would be this! It is very well written and got "instant and constant" action. The book takes place some 800 years ac. You will follow the young Viking Orm throughout many exiting adventures. At the age of 17:teen, Orm get kidnapped and commences his journeys throughout west and east Europe. He serves in a Mohammedan army, raids England and also travels to Russia, to name a few of his adventures. Not only is it a hilariously funny book, it is historically accurate and you will learn a lot.

***** Don't judge this by its cover, 24 Jun 2004
By "jacquesbrel"

Forget the awful cover – this book is a gem. One of Sweden's foremost historians and literary figures, Bengtsson has been compared to a latter-day Samuel Johnson. A marvellously pacy adventure story, "The Long Ships" towers above most historical fiction, especially as it contains sound background on arcane Norse traditions such as nose-tweaking, trollcraft and, of course, "The Ale Death". In fact, it's one of the funniest books you'll ever read – few books can make you laugh out loud on a crowded tube train, but this is one.

***** A book deserving cult status, 4 April 2006
By A Customer

Ahh - Röde Ormen (The Red Worm) translated to English, with a cover that could discourage any sensible reader. I don't know how this book presents itself in english, but in the Danish translation it is one of my all-time favourites. In what seems to be a lucky punch, or a divinely inspired magnum opus, Bengtson managed to keep a perfect pitch between tongue in the cheek irony, burlesque humor, juvenile romanticism, and - hidden somewhere in between swordplay and lovemaking - acknowlegment of the grim realities of early medieval life.
It is one of those rare gems that can be read again and again, each time with more than one chuckle, feeling in just the right company with no-nonsense farm-boys who make an odyssey through 900 ac Europe, part history, part myth, and written with an astute sense of detail that makes the characters come alive. Eventually you'll know long passages by heart and be eager for your children to grow to an age where you can read it aloud to them. It may not be on the literary critics 'all-time 100', but I only know a handful of books with an impact like that.
---

Journal Entry
4
by

LeishaCamden
at
Alna bydel, Oslo fylke Norway on Monday, April 17, 2017
Reserved for release at the BookCrossing convention here in Oslo later this month on the table for translated Scandinavian literature.
---

Journal Entry
5
by

LeishaCamden
at
Bookcrossing Convention Oslo 2017 in St. Hanshaugen bydel, Oslo fylke Norway on Tuesday, April 18, 2017
Released 3 yrs ago (4/20/2017 UTC) at Bookcrossing Convention Oslo 2017 in St. Hanshaugen bydel, Oslo fylke Norway
WILD RELEASE NOTES:
Convention release!
---

Got it at the convention, it looks very intetesting, thank you leishacamden!!!!
---