Moon Called
5 journalers for this copy...


Another variety of the Southern Vampire Novels, this time starring wererwolves rather than vampires.
Mercy (short for Mercedes, a young mechanic who runs a garage and repairs German cars, mostly VW though ;-) is a shapeshifter: a coyote but raised by werewolves. When a newly turned wolf turn up at her garage and asks for work, she smells trouble...
Mercy is sassy and tough, and a lot of fun, too.
Daraus wird ein Ray!
Teilnehmer:
Urla
DieHenkerin
---

Thanks for the book! I love werewolves and I am very much looking forward to reading the novel.
---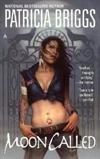 "Moon Called" is fun to read and features some interesting characters. But unfortunately the lead characters are rather dull.
Find a more detailed review on my
blog
(only in German).
The book travels on to DieHenkerin.
---
Just found the book in my post-box.

Thanks for this ray - and thanks for sending this book to me. :o)
---
I really enjoyed this book as I'm completely into vampires and that stuff at the moment.

I laughed a lot about the German words like "Metallzauber" and "Politzei".
I don't understand how an author with a degree in German could make such mistakes...
---
Will be send as RABCK to
bilbi
.
---
Journal Entry
7
by
DieHenkerin
at
-- Per Post geschickt/ Persönlich weitergegeben --, Niedersachsen Germany on Thursday, July 24, 2008
Released 13 yrs ago (7/25/2008 UTC) at -- Per Post geschickt/ Persönlich weitergegeben --, Niedersachsen Germany
CONTROLLED RELEASE NOTES:
CONTROLLED RELEASE NOTES:

The werewolves will visit France now...
---

I'm very glad to receive this book because I love to discover new series \o/

Thank you very much DieHenkerin !

I'm fine with RABCKs and trades so don't hesitate to ask for a book - this offer is on for each of you, of course !!!

HAPPY SUMMER !
---

Well I just wanna tell you that I'm about to start reading this book.

I forget that it was a 'ray so I was taking my time to pick it up...

PatriciaLeao wishes to read it so I'll start reading it today.
---

It was a very entertaining story !
I'm glad to know these new characters !
Thanks again for sharing

The book's on its way to Portugal now
---
The book is in Portugal.
Thanks for this oportunity.
---