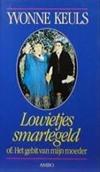 Lowietjes smartegeld, of: Het gebit van mijn moeder
4 journalers for this copy...
's Nachts rekende Lowietje zich rijk. Het verhaal van zijn vader, Eduard Boudrie - die nooit uit krijgsgevangenschap was teruggekeerd - schatte hij op een duizendje of tien en dat van mijn moeder, Marie Boudrie-Wijnschenk - die voor zijn kinderogen was vastgebonden aan een marmeren pilaar en vervolgens door de Jap werd afgeranseld - was toch zeker goed voor zo'n vijftien, twintigduizend gulden. Al met al een niet te versmaden bedrag aan smartegeld, dat hij om welke belachelijke reden dan ook pas zo'n halve eeuw na de Japanse capitulatie in handen zou krijgen.
Zo begint deze roman van Yvonne Keuls.
Zij beschrijft hierin op meesterlijke wijze de lotgevallen van Lowietje en zijn tijdens de Japanse bezetting van Nederlands-Indië mishandelde moeder.
Lowietjes smartengeld is een met humor geschreven verhaal over de oorlog, over de ontkenning van leed, over smartengeld, maar vooral over een moeder die haar zoon claimt om tenminste met iemand haar 'pijnen' te kunnen delen.
---
Journal Entry
2
by
LenaLena
at
Strandpaviljoen Zoomers in Castricum, Noord-Holland Netherlands on Saturday, June 21, 2008
Released 11 yrs ago (6/20/2008 UTC) at Strandpaviljoen Zoomers in Castricum, Noord-Holland Netherlands
WILD RELEASE NOTES:
RELEASE NOTES:

Morgen mee naar de meeting.
---

Een van Keuls, die ik nog niet ken!

Meegenomen van de jaarlijkse BC-meeting 2008 voor op mijn MTBR! ;-)
---

Dit boek zat in een doos die ik kreeg van Pebby72. Het boek zal van hieruit verder reizen.
---

Wat leuk……………… iemand die het boek heeft gevonden !!!!

Fijn dat je ook even naar de website bent gekomen om te melden dat je het boek hebt meegenomen. Als je het boek na lezing weer wilt vrijgeven en nieuwsgierig bent of het daarna weer door iemand anders wordt gevonden, waar het boek daarna naar toe gaat… enz…… meld je dan aan als nieuw lid van bookcrossers (op de Engelse website www.bookcrossing.com ).Wil je dan aub bij je aanmelding als nieuw lid bij Referring Members mijn naam (Anneleis) opgeven? Dan weet ik dat het door mij geregistreerde boek een nieuw lid heeft gemaakt !

Je kunt het boek na lezing vrijgeven op de manier zoals jij dat wilt, ergens neerleggen in een openbare gelegenheid, cadeau geven aan een kennis, er zijn zoveel mogelijkheden. Kijk anders ook eens naar de Nederlandse website www.bookcrossing.nl, daar staan veel leuke tips en wetenswaardigheden.

Veel plezier met het boek.
Anneleis

Dit boek doet mee met de april 2019 uitdaging "Maak je eigen verhaal": op het Nederlandse forum, georganiseerd door Anneleis.
---

Journal Entry
6
by

AnonymousFinder

at
Amersfoort, Utrecht Netherlands on Saturday, April 20, 2019
Gevonden in de Ikea, ik laat hem weer los in Harderwijk!
---