Stupid White Men: ...and Other Sorry Excuses for the State of the Nation!
Registered by
BookGroupMan
of
Criccieth
,
Wales
United Kingdom on 6/23/2003

This Book is Currently in the Wild!
1 journaler for this copy...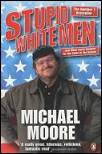 Our book group picked SWM, because we were looking for a 'lighter' read and were taken in by the nonsense blurb, you know the sort "hilarious!!!, I laughed 'til my head exploded". We've had much greater success hunting down
the elusive funny book with a John O'Farrell & Kingsley Amis double-header; but that's another review. Firstly, I do not doubt that the dubya administration is corrupt and has a very tenuous mandate for power, or that US politicians are self-seeking egomaniacs (make that any politicians), nor even that the great swathe of sensible, liberal Americans deserve better, and should rise up as one and take control of the streets, in their SUVs of course. But, is this the right book; is Michael Moore the right mouthpiece for the disenfranchised? Frankly, he comes across less as a champion of the people, than a bitter, polemic, preaching, argumentative, contradictory, self-publicist - he might even make a good politician (in opposition), if he had better clothes sense! This is an unfunny diatribe; clever, but cynical & sad; padded out with scurrilous conjecture and geeky lists. Only read this book if you are given it (i.e. free), have lots of spare time, and are willing to take it as personal criticism. In summary, I didn't like it much!
---

Journal Entry
2
by
BookGroupMan
at
Post Shop in Havelock North, Hawkes Bay-Poverty Bay New Zealand on Friday, July 25, 2003
Released on
Thursday, July 24, 2003
at
Sent to friend by post
in Havelock North, Hawke's Bay New Zealand.
I think you'll enjoy this more than me - you were always an old pinko! Me, I'm becoming more reactionary every year, and I started a bit to the right of Maggie Thatcher! Now, where did I leave my green wellies and wax jacket...??
---