Spud
2 journalers for this copy...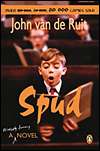 South Africa's answer to Adrian Mole, John "Spud" Milton keeps a diary of his first year at a posh boys' boarding school in Natal in 1990. He and his friends (with names such as "Mad Dog", "Gecko" and "Rambo") get up to all sorts of mischief, which makes for hilarious reading.
Spud
for me indicates a change of direction for South African fiction. It's no longer a given that a local novel will be bleak, dry and political - it's ok to be proudly South African and to have lots of fun at the same time. Finally local publishers have realised that genres such as comedy, romance, mystery thriller and *gasp!* even fantasy have a market in South Africa - we don't actually all want to read gritty (guilty?) realism. Yay for
Spud
!
I'm releasing this book to fulfil V in the
African Authors A-Z Challenge
.
---
I'm posting this off to a South African friend in the UK. I'm not sure if she's read it yet, but if she hasn't I hope she enjoys it.
---
I received the book by post from a friend in South Africa who is a bookcrossing member. Though I've heard of the novel before, I've never actually read it. Once I've started I couldn't put it down and it went everywhere with me...on the bus, the tube, to the park. What a pleasure to read - can't wait to pass it on!

Reading Spud enabled me to view a, often regarded to be sensitive, time in South Africa's history through fresh eyes. John Milton (Spud) is everything I'm not (male, born more than a decade before me in a different part of the country into a family that is thankfully the exact opposite of mine) but at the same time we're suprisingly alike!
The familiarity of his South African upbringing meant that I could appreciate his super sharp humour and often satirical views. Reading Spud made me feel like I'm right back at home though I really was in the heart of London struggling to survive a cold miserable winter.
Cleverly written, sensitive (not to be confused with boring) and fantastically fresh!
---