The Grey King (Puffin Books)
3 journalers for this copy...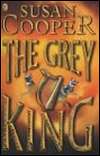 The fourth book in Susan Cooper's "The Dark is Rising" series. This is one of my favourites of the series.
Will Stanton goes to Wales to stay with his aunt and uncle while recovering from a serious illness. There he meets a strange boy, Bran, and gets mixed up in the troubles of the small farming community, which turn out to be more sinister than any of the locals realise.
I've got another copy so I'm sending this one to cosminx, as it's on her wishlist.
---
thanks so much for sending this snufkin81 - it arrived this afternoon, and totally made my day!! i loved the postcard, too - it really makes the world seem like a smaller, friendlier place :)
---
it amazes me that, being the huge fantasy fan i am, i managed to miss "the dark is rising" sequence - perhaps in my defence i can argue that with all the excellent modern fantasy out there that i just haven't needed to search too far back to have lots of great stuff to read? whatever the reason, i'm glad to have remedied the issue, and i'm delighted to say how great these books (still) are. "the grey king" was fantastic, and really put me into the groove where i had to find out straight away how the whole series ended (good thing i had "silver on the tree" just waiting for me!!) thanks again snufkin81 for sending these books to me; i hope the next reader enjoys them as much as i did :)
---
Journal Entry
4
by
rem_IYK-917793
at
Hackham, South Australia Australia on Thursday, March 05, 2009
CONTROLLED RELEASE NOTES:

sent as part of a rabck parcel to my dear friend jo1975. happy reading, sweetheart - hope there's something in there that really grabs you!!!
---
A great series, I really liked this one. I read book 4, this one, and then book 5 and weirdly, I don't mind at all that I hadn't read 1-3 first, I still enjoyed them anyway.

Thanks:):)

Will pass them on to someone soon...or maybe leave them in a public place as those I have been passing books onto don't seem very good at jounalling and read the books and then forget them on a bookshelf i think!:)
---