Arms of Nemesis
2 journalers for this copy...

This is one of 31 books I bought this morning at the Phoenix Association animal rescue group's "Giant Euro Book Sale".
---

A very enjoyable mystery set in the Roman Empire time, in the beautiful Bay of Naples. Many of the characters were real people and the author has done a good deal of research into the foods, life styles, history and slavery of the time. Gordianus the Finder has to discover who killed Lucius Licinius before 99 innocent household slaves are butchered in revenge.
---

Journal Entry
3
by
bluenoser
at
controlled release, a controlled release -- Controlled Releases on Thursday, December 31, 2009
Released 10 yrs ago (1/2/2010 UTC) at controlled release, a controlled release -- Controlled Releases
CONTROLLED RELEASE NOTES:
CONTROLLED RELEASE NOTES:

Conto in Portugal has requested this book and I'm only too happy to see it head off to a new home. Her request prompted me to move this up the TBR pile and I'm glad I did. I now look forward to two more books in this series that are lurking somewhere in my bookshelves.
Happy New Year Conto.
---

---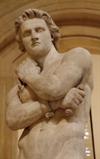 Once more a great book and definitely a page-turner.
Set in 72 B.C., during the slave revolt led by Spartacus and eight or ten years after the events portrayed in "Roman Blood", this book takes us to 'The Cup' - the bay of Naples, where Gordianus has three days to find the real murderer of the cousin of Marcus Licinius Crassus, one of, if not the wealthiest man in Rome, who shared the first triumvirate with Caesar and Pompey and the one who eventually defeated Spartacus (even if universally regarded as one of history's biggest losers, as Saylor puts it).
Apparently killed by two slaves who have run away, allegedly to join Spartacus, the widow of Lucius Licinius wants to get to the bottom of the affair, due to the decision of Crassus to follow an ancient Roman law witch decrees that when a master is killed by a slave, the remainder of the household's slaves must be slaughtered, in this case, the villa's other 99 slaves.
As before, the best in this Steven Saylor's book is his extraordinary capacity to take us to the place and time he's describing: the baths, the paintings and sculptures, the feasts with it's delicacies we almost can smell and taste, the Sybil's cave and the feelings experienced by those who go to her, as well as the portraying of the characters, especially Crassus, are absolutely perfect, without being boring or excessive.
I will now try to find the next one on this series and continue to follow Gordianus in his discovery of the Roman ancient times!
Once again, thank you so very much for this treat, bluenoser. :-)
---

Lent it to a non-BC friend.

ANd it's back, without having been read! :-(
---