Poetic Justice
4 journalers for this copy...
"Kate Fansler teaches Victorian literature and has a passion for the poetry of W.H. Auden - poetry that takes on a new meaning when death strikes suddenly within the hallowed halls of a great New York university. The tragedy occurs at a party celebrating Kate's engagement to assistan D.A. Reed Amherst. It is Reed who must investigate the "accident" that looks more and more like murder - while a suspicious amount of evidence points directly at Kate."

Picked this up today at the Kamppi recycling bookshelf. It has a label of Kierrätyskeskus inside. It's been a while since I've read this one, will probably have a go at it.


---
I usually have liked Kate Fansler books, but this one was a bit hard to get read. The problem was not the Auden quotes, even if they are numerous beyond belief - I love the stuff - and the characters do keep saying awfully clever things to each other, but maybe the political turbulences in a 1960's university just didn't grab my interest.
---
Released 11 yrs ago (3/11/2008 UTC) at Sokos in Helsinki, Uusimaa / Nyland Finland
WILD RELEASE NOTES:
RELEASE NOTES:

5. kerroksen kahvilassa
---

Journal Entry
4
by

Annelis

from
Kerava
,
Uusimaa / Nyland
Finland on Tuesday, March 11, 2008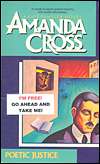 I have read a couple of Kate Fansler mysteries earlier, one was about James Joyce, so I could not resist this one as it came under my nose at the meeting in Helsinki - even if the poet W. H. Auden is not familiar to me. Thank you for book, Oofiri!
Book Description
Student riots have ravaged the distinguished New York City university where Kate Fansler teaches. In the ensuing disarray, the survival of the university's plebeian stepchild, University College, seems doubtful. President Jeremiah Cudlipp is snobbishly determined to ax it; and as sycophantic professors fall in line behind him, the rally of Kate and few rebellious colleagues seems doomed. It is a fight to the death, and only a miracle - or perhaps a murder - can save their beloved institution...
---

I read the book last week. It is difficult for a foreigner to understand those intrigues of the university world. Especially as mathematics and statistics are more my kind of science. Somehow I still like this series.
This is my book #95 in the
Reduce Mount TBR 2018
-challence by Dove-i-libri.
---

The book is on its way towards the UK.
Merry Christmas and Happy reading Bookfrogster!
---
Journal Entry
7
by
bookfrogster
at
Edinburgh, Scotland United Kingdom on Saturday, December 08, 2018
This has made it safely to Edinburgh! Thank you so much Annelis for both this and the huge bar of chocolate. I love the Christmas card you sent too. :-)
---
Journal Entry
8
by
bookfrogster
at
Edinburgh, Scotland United Kingdom on Saturday, December 15, 2018
Like the previous readers, although I really enjoy this series, I found this book the most difficult to get into so far. I think it was because of the detail about the university politics too. I haven't been put off wanting to read the other books by her though. I see this is on another wishlist, so I hope to get it travelling again soon.
Thanks for sharing this one with me Annelis!
---
Journal Entry
9
by
bookfrogster
at
Edinburgh, Scotland United Kingdom on Saturday, December 29, 2018
And off it goes to Soozreader as a little festive rabckery. Happy reading!
---

Journal Entry
10
by

Soozreader

at
Joensuu, Pohjois-Karjala / Norra Karelen Finland on Wednesday, January 09, 2019
The book is back in Finland:) Thank you so much for this wishlist book! Kate Fansler mysteries are such a joy to read!
---