Among Stone Giants: The Life of Katherine Routledge
5 journalers for this copy...
---
---


The book arrived to Stockholm yesterday. Thank you very much, Zmrzlina, for the book and most especially for the lovely stickers :) It arrived in good time, as I just finished another bookray book, so I started reading it right away and now after around 100 pages I can say that it's extremelly interesting. Will "report" more when I'm finished.
Update (22nd Aug): I am finished and have to say that the book simply enthralled me. It's a reconstruction of the life of Katherine Routledge from her childhood in a Quaker family in the 19th century Victorian England through her study in Oxford, marriage to William Scoresby Routledge, their travels and explorations around the world (East British Africa - Kenya, Eastern Island, other Polynesian islands) to her old age in the shade of a hereditary psychological illness. Along with this we also get stories, hypotheses, theories about the history and culture of the Easter island, as this was seen in Katherine's time as well as the modern developments. A fascinating account! There was only one small thing that I missed in the book: to have somewhere a detailed map of the Easter Island as one could easily get confused with all the unusual Polynesian place names. So I printed out
this one
to have a better idea of the place.
And here you can find more information about
Dr. Van Tilburg's project
on making the inventory of all the moai on the island, as a part of which this book was written.
The book goes on to Starry-Starry this afternoon.
---
Received today, thanks pikapolonica and Zmrzlina. Looking forward to reading it, will start later today.
---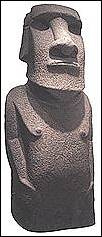 I have thoroughly enjoyed reading this book - thanks Zrmzlina for making it available. Although Katherine's life fascinated me, especially her childhood life in a Quaker family, what really interested me is the account of their research on Easter Island and how amateur archaeologists conducted themselves in the field. Scoresby irritated me with his high-handedness and selfishness and Katherine seemed unfortunate in her choice of husband. The treatment of the Rapa Nui also appalled me.
Jo Anne Van Tilburg's fondness for Katherine comes across very well but she still describes the good and the bad objectively. However sometimes her writing is confusing. She jumps back and forth through time while they are on the island as she is describing their work. For example, the incident with Angata that happened early in their stay on the island is described towards the end of the chapters on Easter Island, which confused me and didn't allow her to explain the impact of that incident on the relationships between Katherine and the Rapa Nui.
I agree with Pikapolonica, the book would benefit from pictures and illustrations and from what I can gather the official publication does have them. I think I will have to seek it out at the library just to see the photographs the team took on the Island. In the meantime I found this website which has wonderful photographs:
Mysterious Places
The picture is of Hoa Hokananai'a - the statue that was removed from Building 11 in Orongo.
Posting this to Muffin 77 tomorrow - 3rd Sep 03
---
This book is with me since Saturday - I only came to have internet today though.
There are only 100 pages left for me and what I read so far is really great!!! Thanks already for letting me read this one!!!!
A more detailed journal entry will follow when I read the whole book =:o)))
---
So I finally got to finish the book =:o)) I thought I'd be faster - but I am in the middle of a move and packing boxes usually takes more time than expected.
I really liked the book. The problems before and during the journey aboard the "Mana" reminded me of Darwin's travel aboard the "Beagle" =:o). Then I was wondering all book long, why in a documentary I saw many moai were erected - but K.R. found only one or two standing up - now I know =:o) Also during that very documentary they showed 2 groups of scientists who wanted to figure out, how the Rapanui could erect the statues - and now I am sure it's the two groups that are mentioned in the book - one around van Tilburg. Their conclusion is also mentioned in the book - there are many ways to stand them up. Also the discussion about deforestation was talked about in the docu. So I think I actually saw van Tilburg working on Rapa Nui =:o)))
I really liked the book and I want to know and read more about this now - there was also the Norwegian group with Thor Heyerdahl... and it would be interesting to read K. Routledges book "The Mystery of Easter Island".
I can only recommend this book to anyone who is interested in "early scientists and their courage to discover the World".
Thanks for letting me read it =:o) - it'll be sent to *MysteryFan03* later this morning.
---
I got this book in the mail today!! Thanks so much. I will journal again when I have gotten to read it. thanks in advance for the enclosed map. I have 2 bookrings in front of this book.
---
While this book was interesting, I had a hard time reading it. It is so full of trivia! Some of it was pertinent to the story, perhaps, but it was hard for me to get into for the first 100 pages or so. Then when things happened and they were on the island, it ended very fast. I would have liked pictures with this book, perhaps more on the theories about the statues and the people of the island (other than just when the Mana crew were there.
Thanks for letting me have the chance to read this!
---
Just got a PM (one of few that are getting through these days...GRRRR) from mysteryfan03 and this one will be back shortly. Makes for one more in my TBR shelves...a picture of which I will be posting later today. It is quite scary, in a good way :-)
Thanks to all who participated. I loved reading the posts and enjoyed the pictures. I will post my journal entry probably sometime in the spring, then release this someplace fun. I'm thinking
America's Stonehenge
:-)
---
It's back :-) And I will read, journal and release. Thank you!
---