Roughing It in the Bush (New Canadian Library - N31)
Registered by

Pooker3

of
Winnipeg
,
Manitoba
Canada on 9/22/2007
3 journalers for this copy...

Purchased from the Grace Hospital used book sale in a whole bag of books for $6.00 - for a Canada Day release challenge.
---

CONTROLLED RELEASE NOTES:

A surprise for Tarna. Coming by slow boat so you could say this poor book is roughing it in the post. :)
---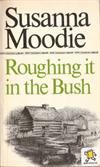 Yay, I get to read Susanna Moodie! You know, Margaret Atwood is one of my favourite authors and
Alias Grace
is, in my opinion, one of the best if not the best novel she's written so far. In the Afterword she says that she first encountered the story of Grace Marks through one of Moodie's books. I'm more than interested in this one. :)
Thank you!!!
Susanna Moodie (1803—1885)
(Canadian Poetry Archive)
Susanna Moodie
(Wikipedia)
---

A couple of months ago, I read
The Journals of Susanna Moodie
by Margaret Atwood. Some might say that I read them in the wrong order. I beg to differ. I remember Atwood telling in the
Afterword
that she felt disappointed after finishing
Roughing It in the Bush
and
Life in the Clearings
(both by Susanna Moodie). I don't have the poetry book anymore, but I think it was the narration she disliked most, and perhaps also and the way the book was put together.
Because of Atwood my expectations weren't too high, and so I truly enjoyed this book. Thank you, Margaret Atwood! Both
The Journals of Susanna Moodie
and
Roughing It in the Bush
brought my grandmother and some other Finnish Canadians to my mind. Finns who came to Canada over hundred years later than the Moodies. They, too, had to struggle. Sure, many things were better in their days but they didn't know the language like Susanna Moodie did.
Also,
Roughing It in the Bush
reminded me of much more recent memoirs about moving to another country. Seems like Moodie draw a kind of map and other writers use it to navigate through their own memoir. The story is usually told in humorous way, settling in the new country is always difficult, neighbours are cheating the narrator even if they aren't that clever, and so on. Can't help wondering if it was Susanna Moodie who started that writing trend.
Thank you so much for sharing this book with me, Pooker3! I really enjoyed it.
---

Released 2 yrs ago (2/8/2018 UTC) at Tampere, Pirkanmaa / Birkaland Finland
CONTROLLED RELEASE NOTES:
Since Annimanni already has
The Journals of Susanna Moodie
, I decided it's only fair to offer her also
Roughing It in the Bush
by Susanna Moodie.
Happy Reading!
---

Thank you so much, Tarna! For the card and bookmarks, too :)
---