February Dragon
2 journalers for this copy...
A gripping story with vivid descriptions about the devastation caused by bushire.
---
Specailly for a kids christmas project
---
This book arrived today. Thank you for your generosity!

Reserved for the xmas fair.
---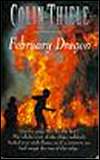 This book is a great example of Australian Literature. We follow the adventures of a group of children living on a farm in the Australian Bush. Colin Thiele's uniquely Australian writing style perfectly captures the character of the Australian Bush as he relates the adventures of these three young larrikins. But their greatest adventure is yet to be faced - the most terrifying danger of the hot, dry Australian summer - the February Dragon. A great book for kids and adults alike.
Reserved for the xmas fair.
---
Released by Santa at the xmas fair.
---