Eine Tür fällt ins Schloss. Roman.
Registered by
lady-liberty
of
Coburg
,
Bayern
Germany on 8/15/2007

This Book is Currently in the Wild!
6 journalers for this copy...

---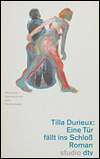 Kam durch das
1 Jahr = 1 Land Challenge BookXerpting
zu mir.
Ein Frauenroman.
Lies sich lesen, hinterlässt aber keinen bleibenden Eindruck.
"[...] Zum einen spielt dieser Grossstadtroman im Berlin der Roaring Twenties, gegen Ende der Weimarer Republik, zum anderen erzählt er von der Liebe einer Vierzigjährigen zu einem zehn Jahre älteren Mann, einer Frau, die selbstbewusst, emanzipiert ihren eigenen Weg geht, der sie aus einer erstarrten Ehe führt."
Reist mit der
Mulit-Kulti-Kiste
weiter.
---
Das Buch ist mit meiner Multi-Kulti-Kiste bei mir angekommen. Mal sehen, was damit als nächstes passiert. Ich werde es wahrscheinlich in irgendeiner Form den 1-Jahr-1-Land-Challengern zukommen lassen. Selbst möchte ich es erst mal nicht lesen. Trotzdem danke für das Buch!
---
Journal Entry
4
by
unknown-user
at
Münster, Nordrhein-Westfalen Germany on Friday, June 25, 2010
Released 10 yrs ago (6/25/2010 UTC) at Münster, Nordrhein-Westfalen Germany
CONTROLLED RELEASE NOTES:
Wandert in die Europa-Box. Gute Reise!
---
Hab mir das Buch aus der Europa-Box geliehen.
Ich muss sagen, ich fand es interessant, die Gefühlswelt einer Schauspielerin mitzuerleben - und dass eine Schauspielerin in ungefähr dem gleichen Alter das Buch geschrieben hat, macht es doch ziemlich autentisch. Das Buch zeigt, dass die "goldenen Zwanziger" wohl nur für die golden sind, die sie nicht miterlebt haben - zumindest, was die Frauen betrifft. Denn trotz angeblich beginnender Emanzipation waren sie letztlich wohl doch nicht viel mehr als ein Anhängsel am Ehemann - auch wenn sie, wie die Protagonistin, beruflich erfolgreich waren.
Reist mit der
Europa-Box
weiter.
---

Das Buch habe ich aus der Europa-Box genommen.
---

Das Buch hat mich wirklich begeistert. Die Ich-Erzählerin erzählt ihren inneren Kampf, ob sie in ihrer Ehe bleiben soll oder nicht. Sogar so detailliert, dass man ihre Beweggründe, Zweifel und auch die Entscheidung nachvollziehen kann. Sie beginnt sehr hoffnungsvoll eine neue Beziehung, fällt aber wieder in ihr altes Muster zurück. Schön finde ich, dass sie am Ende erkennt, dass sie erstmal allein bleiben sollte.
Ich bin froh, dass Frau Durieux dieses Buch geschrieben hat, obwohl sie es selbst damals sehr bereut hat, weil die Menschen in ihrer Umgebung dachten, es sei autobiographisch. Das spielt aber heute keine Rolle mehr. Die Thematik ist immer noch aktuell.
---

Released 8 yrs ago (3/11/2013 UTC) at Blaubeuren, Baden-Württemberg Germany
CONTROLLED RELEASE NOTES:
Das Buch wurde an Canchita weitergereicht, die nächstes Wochenende auf die Leipziger Buchmesse fährt. Ob es dort freigelassen wird oder woanders liegt nun nicht mehr in meiner Hand.
---
---
In der Glashalle frei gelassen
---