Which Witch?
4 journalers for this copy...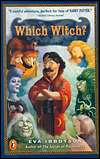 Bought Monday at Bibles for Missions thrift store. I read
another copy (see my review here)
some time ago and really quite enjoyed it, so this copy was bought specifically to release. Available.
From the front cover:
"A zestful adventure, perfect for fans of HARRY POTTER."
--
School Library Journal
Which Witch?
EVA IBBOTSON
Author of
The Secret of Platform 13
From the back cover:
WANTED: ONE WILDLY WICKED WITCH TO WED.
Arriman the Awful, the handsome Wizard of the North, has decided to marry. But which witch will it be? Arriman devises a contest: whoever performs the darkest piece of magic will become his bride. Belladonna, the smallest of the coven, wants desperately to win, but she has one problem: she's a good witch. Her spells conjure up begonias and baby birds, not a single nest of vipers or bloodshot eyeballs. But Belladonna is in love, and she's determined to do something sinister in time for the contest....
"Imagination and humor run rampant.... An endlessly amusing book to delight readers." --
Kirkus Reviews
---
Put into the Everybook VBB; Reserved.
---
Mailed today... Traveling.
---

This book looks so cute! Thanks for sharing!!
---

A prophecy is made that a dark wizard will be coming to replace Arriman the Awful. Arriman waits and waits and when the wizard doesn't show up, he needs to find a way to make sure that his dark magic gets passed on to the next generation. Arriman decides to hold a contest for all the witches in the local town to find out which witch will become his wife. The witches must perform their darkest magic to try to win over Arriman's heart.

Belladonna is a white witch who wants very badly to be dark... but whenever she tries any black magic, she just creates flowers and rabbits. Until she meets Terrance and his pet worm, Rover. She hopes they can help her win the contest.

This book is a lot of fun and very cute!! They say on the front that if you're a Harry Potter fan you'll enjoy this, but this reminded me more of a Roald Dahl book. You don't need to be a kid to enjoy this! This was a great read!
---

Journal Entry
6
by

AceofHearts

from
Mississauga
,
Ontario
Canada on Sunday, December 28, 2008
Arriman the Awful, the Wizard of the North, has waited and waited for a replacement but no one has arrived. He decides the best way to pass on his dark magic is to marry. But Who? He decides to hold a competition. Whoever performs the darkest magic, wins.

There are sea witches and country witches, witch twins and even an enchantress shows up at the last minute. But Belladonna, a white witch has unfortunately fallen in love with Arriman. She is determined to win but how does she start creating vipers instead of bunnies. Terence, an orphan that Belladonna rescues and his pet worm, Rover might just be the help she needs.

The contest is fun and the end has a couple of really nice twists. A fun and imaginative book!!
---

Mailed today to Elsi from the VBB!
---

Arrived today -- that was fast! I am so very fond of Eva Ibbotson, so I was eager to take this book from the Everybook VBB at
BookObsessed
. I'm going to slip it into the TBR as close to the top as possible.
---