Geisha
6 journalers for this copy...
Looks hard work. Still to be read

9 Sept 03
A fellow bookcrosser requested this book and I have now put it in the post. Should be at its new home soon.
---
Journal Entry
2
by
Atenea-Nike
on Friday, September 12, 2003
Thank you! This book will take the place of my lost copy (
see the story here
) and travel to Flaneuse's hands on monday morning. This is the list of participants for this bookray. I tried to organise it as rationally as possible, but my knowledge of American geography is not very good, so if any of the american participants thinks of a more efficient way to do so, please don't hesitate to let me know.
If anyone wants to join now, they'll just be added at the bottom in chronological order.
Red indicates who has already read it.
Bold red indicates who has it in his/her power.
0.Inkognitoh (UK)
00.Atenea-Nike (Spain)
1.Flaneuse (Spain)
2.Pikapolonica (Stockholm, Sweden)
3.Robbiesmum (UK)
5.Starrpeace (Canada)
6.Cestmoi (Toronto, Canada)
7.Grover3D (Charleston, WV, USA)
8.Seferim (Maryland, USA)
9.Sejent (Louisville, Kentucky, USA)
10.Mom-of-One (Pennsylvania, USA)
11.squirrel818 (Minnesotta, USA)
12.Hawkette (Melbourne, Australia)
13.Luckaye (Australia)
14.Special-K (Australia) *WARNING* Special-K is to be skipped unless this notice changes by the time it's his/her turn.
15. SpikesMom (Pennsylvania, USA)
16. Wakira (Spain)
17. OlePinto (Spain)
18. YowlYY (UK)
---
Por fin, la Geisha llega a Barcelona sin ningún rasguño.
El cartero me ha avisado por el interfono de que tenía un paquete que no cabía en mi buzón. Menos mal, porqué ya desconfiaba hasta de mis vecinos....

Geisha is now in Barcelona, the weater is still good here so maybe she prefers to stay in the sunny city for a weeks before travelling to Sweeden.
---
Beautiful geisha is flying to Sweden to teach all the secrets of these japanese culture
---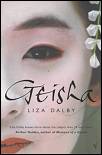 Geisha has arrived to Stockholm. I will start reading it as soon as I am done with another bookray book and will write more when I have read the book.
Update (15thDec): an amazing insight into the life of geisha. Not only thoroughly researched and studied, but made even more alive with the personal participation in this world. Lisa Dalby alias geisha Ichigiku really becomes one of them and tells not only of the life in her own district Pontocho in Kyoto, but visits other geisha in other towns around Japan (Tokyo, some spa resorts, etc.), so that she gives an insight into more than just the very traditional geisha life in Kyoto. After I finished this book, I reread The Memoirs of a Geisha by Arthur Golden and I found that many mysterious things in this other book were made more clear by what I learned in the book by Lisa Dalby.
Thank you, Atenea-Nike, for starting this bookray. This is really an amazing book!
Now on its way to Robbiesmum.
---
This looks a great book. I have always been fascinated by the culture of geishas so I'm looking forward to reading this. Thanks Pikapolonika for the Christmas card as well.
Please bear with me as I've got behind on my reading due to a terrible cold. I've been a bit inundated in the past three days but I'll do my best to catch up on my reading over Christmas.
---

Just received as part of a bookring. Will journal again. Thanks.


---

Very interesting story of a woman who spends a year in Japan learning to be a Geisha. It reads like an essay or thesis though and is not "entertaining" in the way a novel is...it was more like an informational dossier about Geisha.
I recently read Memoirs of a Geisha and so it was interesting to me to read this book and gave me a different perspective and more about the history and tradition of Geisha.

This goes to starrpeace next, then it will continue its route in the ring. Due to finances, it won't go out til the end of next week though.

April 6/2004 - Mailed today.
---