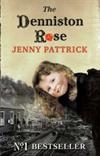 The Denniston Rose
4 journalers for this copy...

Pre-numbered label used for registration.

The bleak coal-mining settlement of Denniston, isolated high on a plateau above New Zealand's West Coast, is a place that makes or breaks those who live there. At the time of this novel - the1880s - the only way to reach the makeshift collection of huts, tents and saloons is to climb aboard an empty coal-wagon to be hauled 2000 feet up the terrifyingly steep Incline - the cable-haulage system that brings the coal down to the railway line. All sorts arrive here to work the mines and bring down the coal: ex-goldminers down on their luck; others running from the law or from a woman or worse. They work alongside recruited English miners, solid and skilled, who scorn these disorganised misfits and want them off the Hill. Into this chaotic community come five-year-old Rose and her mother, riding up the Incline, at night, during a storm. No one knows what has driven them there, but most agree the mother must be desperate to choose Denniston; worse, to choose that drunkard, Jimmy Cork, as bedfellow. The mother has her reasons and her plans, which she tells no one. The indomitable Rose is left to fend for herself, struggling to secure a place in this tough and often aggressive community.The Denniston Rose is about isolation and survival. It is the story of a spirited child, who, in appalling conditions, remains a survivor.
---

I didn't have time to read this, but I did read it a few years ago anyway.
Incidentally, this book was a best-seller in NZ (spawning a whole bunch of books about the coal/gold-mining period of our history) with a sequel, Heart of Coal, and will apparently be a film before long.
Posted to AceofHearts for the Historical Fiction Swap. Enjoy!
---

Journal Entry
3
by

AceofHearts

from
Mississauga
,
Ontario
Canada on Thursday, December 27, 2007
received today. Thanks!!!!
---

Journal Entry
4
by

AceofHearts

at
Mississauga, Ontario Canada on Sunday, June 12, 2011
Rose, a five year child and her mother ride up the perilously steep incline late one night to Denniston. Denniston is a coal mining town high on a plateau on the west coast of New Zealand. This is the 1880s. Life is tough as only a makeshift town exists.

Rose's mother takes up with Jimmy Cork, a drunkard. Rose is left to fend for herself. The English miners are knowledgeable about mining and very close-knit and want to run the other miners off. The other miners are ex-goldminers trying to turn their luck around and those escaping from the law and family. This is a very rough and aggressive community.

This is a story about survival and isolation and mining in 1880s New Zealand. The reader can't help but admire Rose's spirit and 'pull' for her all the way.


---

Journal Entry
5
by
HoserLauren
at
Toronto, Ontario Canada on Saturday, May 05, 2012
Mining in 1880s New Zealand is a tough business, a fact that the isolated town of Denniston knows well. Isolated on a high plateau, the only way in and out of the small community is up a very steep incline, one that many don't take down. Five year old Rose and her mother arrive up this incline in the middle of a storm. They stay with the local drunk, Jimmy, whom it is claimed is Rose's father. Not enjoying her family life with her drunk father and promiscuous mother, Rose ventures out frequently and the community feeds her and takes care of her. She learns of all the different members of the community; those from England who are true miners and those who depend on the miners for their jobs.

Rose is considered a smart girl for her age and the adults can't seem but to help her. She isn't quite sure what her mother is up to, but her mother does have a plan, one that should eventually allow them to leave Denniston.

Though Rose is painted as a cute kid who many of the characters love, I couldn't really warm up to her. I know I shouldn't hold some of her actions against her because he mother was never around to teach her right from wrong but I still couldn't get past her shortcomings. This book really highlights how a small community comes together (or doesn't) to help raise their children. I enjoyed reading about this mining community and found that it was a fairly easy read.

The cover of this book has got to be one of the worst covers ever. It has this kid's head sticking out from the side. Very weird! I tried to cover that up while reading this on the train!
---

Journal Entry
6
by

AceofHearts

at
Mississauga, Ontario Canada on Sunday, May 06, 2012
This book is back with me :)
---

Journal Entry
7
by

AceofHearts

at
Mississauga, Ontario Canada on Thursday, May 24, 2012
mailed from Frankenmuth, MI to Elsi who won this in a HF swap
---

This arrived last week, but I just didn't find time to journal it. Thanks for sending it to me.
---