Killing Time
2 journalers for this copy...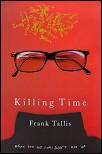 Picked this one up on the bargain sales shelf at a WHSmith station kiosk along with a few others. Another satirical urban geek story! At first I thought the plot a little incoherent, but everything fell into place in the end. Has some nice juicy scenes also ... One thing I found absolutely strange (unbelievable, irrealistic, ...), was when Tom's girlfriend sweet Anna lies down and gets naked in a wheat field ... and he REFUSES (!!!!!). Oh Tom! Or should I say, "Oh Frank!".
You might want to check out an article by Frank Tallis on his other book "Sensing Others" with the promising title "On the Importance of Creative Killing" at
this website
---

Borrowed this one to a friend, so it won't be released right away.
---

---
I picked it out of the bookbox and will read it soon because it might be the "seriously funny novel" as written on the paperback´s back.
---
It was a very good read: a thriller as black as funny.
---