Doctor Who and the Horns of Nimon
2 journalers for this copy...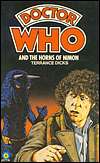 From the back cover:
"In the great maze of the Power Complex dwells the dreaded Nimon, a fearsome monster with immense scientific powers.
The Nimon has promised to restore the Skonnan Empire to its former glory. But first it demands sacrifice — youths and maidens from the peaceful planet Aneth.
The TARDIS collides with the space ship delivering the victims, and the captured Romana is condemned to be sacrificed to the Nimon.
Aided by the faithful K9, the Doctor goes to the rescue. In the heart of the maze he confronts the Nimon and uncovers a terrifying plot to enslave the galaxy."
---

Welcome to BookCrossing!

Thanks for checking the site out. I hope you enjoy both the book and the site. People all over the world are tracking their books through BookCrossing. While you're here, I'd really appreciate it if you'd make a journal entry for this book so I know that it's safe. You may choose to remain anonymous or to join (it's free).

If you do decide to become a BookCrosser please consider using me, Davros-10, as the member who referred you. If you are already familiar with BookCrossing, thanks for picking up the book, I hope it is one you were looking for!

Please feel free to keep this book for as long as you wish, and whenever you're ready pass it on to a friend, or leave it "in the wild" for someone else to find. Then watch its journey - you'll be alerted by email each time someone makes a new journal entry. It's all confidential, free and fun (and addictive - but in a GOOD way)!

Extra book mailed to one of the Secret Santa recipients as there was plenty of space in the pre-paid satchel. Hope you enjoy it and have a great Christmas.

Also counts towards the 2012 "D" For December Release Challenge.
---
Journal Entry
3
by
PJLBewdy
at
Salamander Bay, New South Wales Australia on Saturday, December 29, 2012
I have just returned from our Christmas travels around New South Wales, visiting and bothering our loved ones. I now have the opportunity to journal BC Secret Santa presents that I have been fortunate enough to receive. Thank you so much for this book.
---