Doctor Who and the Underworld
2 journalers for this copy...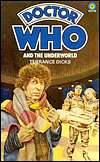 From the back cover:
"Exploring the very edge of the known universe, the Doctor, Leela and K9 discover a group of astronauts searching for the lost gene bank of Minyan race. During the perilous voyage, the astronauts' craft plunges into the heart of a recently formed planet, wherein an awesome secret is hidden.
How will the Minyan quest end?
What must the Doctor wrest from the Heart of the Oracle?"
This was Bill Donohoe's first contribution to the ongoing series and the artist is credited on the back cover. Alongside Tom Baker as the fourth Doctor, his cover shows Alan Lake as Herrick and an aged Imogen Bickford-Smith as Tala. This was the only cover art ever produced for Doctor Who and the Underworld.
This copy has on the cover the original Target coloured roundel logo.
---

Welcome to BookCrossing!

Thanks for checking the site out. I hope you enjoy both the book and the site. People all over the world are tracking their books through BookCrossing. While you're here, I'd really appreciate it if you'd make a journal entry for this book so I know that it's safe. You may choose to remain anonymous or to join (it's free).

If you do decide to become a BookCrosser please consider using me, Davros-10, as the member who referred you. If you are already familiar with BookCrossing, thanks for picking up the book, I hope it is one you were looking for!

Please feel free to keep this book for as long as you wish, and whenever you're ready pass it on to a friend, or leave it "in the wild" for someone else to find. Then watch its journey - you'll be alerted by email each time someone makes a new journal entry. It's all confidential, free and fun (and addictive - but in a GOOD way)!

Mailed to juli2007. I hope you enjoy it.

Also counts towards the 2013 Never Judge A Book By Its Cover Release Challenge: Week 26 (Quarter 2 Do-over - W15: Triples).
---

---