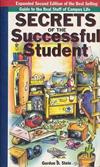 Secrets of the Successful Student: Expanded Second Edition
1 journaler for this copy...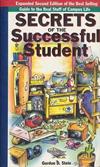 Bought today at City Secondhand for a $1. TBR
There's a handwritten inscription on the inside front cover that read:
Joanne, I thought that you would find this very funny look at on-campus living very informative. You'll probably realize how lucky you are to not have gone through it. Jon P.S. KD is a
Staple
.
From the front cover:
Expanded Second Edition of the Best Selling Guide to the Real Stuff of Campus Life
SECRETS OF THE Successful Student
Gordon D. Stein
From the back cover:
Secrets of the Successful Student
The Best Selling Guide to the Real Stuff of Campus Life
Like a stick of dynamite, this book will propel you through the world of higher learning and blast you out as a graduate with impressive marks, enviable study habits, a full social calendar, a balanced cheque book and a great career.
Along the way you'll learn how to eat healthy and cook cheap, know just where to sit for the final exam, stretch out the stress, spark a new romance, control the landlord and the mice in your apartment. Now is this or isn't this the Real Stuff of campus life?
Contents
SECRETS OF THE SUCCESSFUL STUDENT
Part 1. HERE'S LOOKING AT YOU!
Your Student Hovel
A Primer on cockroaches, mice and leaks
Fiscal Frenzy
Tackling the cash flow challenge
Beyond the Care Package
Cooking and eating cheap and good
Fighting Student Stress and Spread
Workin' it all out
Examining the Student Body
Steps to dynamite dating
Part 2. ARE YOU SERIOUS?
Post Procrastinating
Time management for the rushin' student
Organized Grime
Filing, cupboards, and laundry
Avoiding Arithmetic Armageddon
Breaking the math barrier
The Taming of the Verb
Essays made easy
Making the Grade
You too can pass exams
Creating a Career
Post-grad proving ground
---

Since in recent years I've been studying part-time for my CGA, I pulled this off the shelf & gave it a quick breeze-through a while back. Didn't find it very helpful, but that could be because I'm so far removed from that life now. One quote I did mark:
"Much of the stress of school and ultimately the working world is caused by a constant and underlying fear that there exists some event that you should be preparing for, or some item that you have forgotten."
Also scanned a funny illustration for this journal entry. Book is now Available, hopefully it will find someone for whom it's relevant.
---