The Robber Bride
Registered by
Frangipani04
on 5/22/2007
This book is in a Controlled Release!
2 journalers for this copy...
"Zenia is beautiful, smart and greedy, by turns manipulative and vulnerable, needy and ruthless; a man's dream and a woman''s nightmare. She is also dead. Just to make sure Tony, Roz andd Charis are there for the funeral. But five years on, as the three women share an indulgent, sisterly lunch, the unthinkable happens; 'with waves of ill will flowing out of her like cosmic radiation', Zenia is back..." (backcover)
---
It was a good book, but not as good as the Handmaid Tale, in my opinion. But it was worth reading it.
---
Sent as a RABCK to conto. I hope you enjoy it!
---
Sent as a RABCK to conto. I hope you enjoy it!
---
Sent as a RABCK to conto. I hope you enjoy it!
---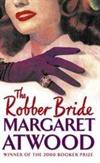 That last one seems to have been a difficult JE!! ;-))
Thank you so much, Frangipani04, for this "new" Atwood! I won't be able to get to it soon enough, as I have so many others to read, including the one marked to go and meet you as soon as I'm done: "Cat's Eye".
I'll come here, nevertheless, the minute I finish it!
---


I don't know why it took me so much time to read Atwood once again. I love her writing so much I shouldn't stop before I read all of her books!
This one started out by not being one of her best, or so I thought, but quickly enough grabbed me to its pages and left me wishing to be able to do nothing else but read until it was finished.
Unlike any of her other books I've read so far, this one gave me the feeling of starting to make sense of Atwood's work as a whole. I just don't know how to explain this idea.
In this book, the author picks the concept of a fairy tale, mixes various tales in her writing cauldron, the most obvious being Grimm Brothers' The Robber Bridegroom, and gives us the super villain, the impossibly, fantastically bad Zenia, a predatory woman who (metaphorically) devours men after seducing them away from their partners, as well as the story of her three victims, Tony, Charis and Roz.
These three women, so different from each other, have in common some kind of vulnerability, brought from childhood, which always seems to be the key to let Zenia in their lives, and we get to know their life story as they reflect upon it.
The best of it all, as I see it, was the presentation of the characters in the three women different perspectives: first Tony with her objective view makes us see Roz as a loud, futile being and Charis a tiresomely silly creature with a "flower power" mania, and one doesn't quite understand why they even have lunch together. Then Charis takes center stage and with her eyes we see Tony's oddments and quirks as Charis sees them, and Roz differently as well. Finally with Roz, we see all three women newly again. Each of them becomes the most interesting of the three, as the plot shifts to tell their individual stories.
Only Zenia is always the same, no matter witch of the three friends' thoughts we are following… and I guess that was the only thing I felt missing from the book: Zenia's point of view and the others as seen by her. But I guess that's how Atwood intended it to be and Zenia is meant to have no voice of her own, being only a mad reworking of everyone else's, for "there may be some of Zenia is all of us", as Tony thinks in those last moments.
A great, great book, a must read one, I guess!
Now available for whoever wants to try it.
---

Journal Entry
8
by
conto
at
to a friend, by hand -- Controlled Releases on Tuesday, December 22, 2009
Released 10 yrs ago (12/23/2009 UTC) at to a friend, by hand -- Controlled Releases
CONTROLLED RELEASE NOTES:
CONTROLLED RELEASE NOTES:

And this one's now going to a co-worker interested in good reads.

I hope you like it and I hope you can cope with the english. If not just say so, for I've got a copy in portuguese and will be glad to give it to you. But try reading this one first though, because the translation doesn't do this book justice.

If you like the concept, join Bookcrossing as well. The only problem with it is that you'll never again have time enough to read all the books you happen to grab! ;-)

Have fun...
---