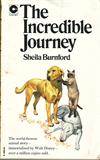 The Incredible Journey
1 journaler for this copy...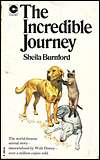 Luath
the Labrador,
Bodger
the Bull Terrier, and
Tao
the Siamese cat on their way through the Canadian wilderness - this is the story of their incredible journey home...
Many, many years ago (I can't have been older than 12, but was more likely about 9) I remember watching "The Incredible Journey" (or whatever the German movie title may have been) in cinema. I can't really remember the details, or the animals' names even, though I'm fairly sure it's not the book names, but I do know that the film left a huge impression on me. So when I saw the book yesterday for a mere €1,50 when I went "just browsing" in an English bookshop, I just
had
to buy it (along with five others - so much for "just looking").
I read it through overnight and am very happy with my decision to buy it. Of the three animals I liked Tao best, probably because I'm an avid cat lover, but my heart went out to Bodger as well, the poor old dog. I was half afraid the animals might be talking (as they probably did in the movie, but that's Disney) but luckily they behaved just like regular animals would - I especially liked Tao's realistic catlike random quirks and frequent washings. But the people they encounter on their journey west are just as interesting, my favourites being the Indian tribe and the Finnish girl Helvi. At the end I positively cried with happiness.
EDIT on 25/10/07: Today someone posted a link to another Bookcrosser's copy of this book. I really like her comments, so
here it is
.
---