Mechanický pomaranč
2 journalers for this copy...

"A Clockwork Orange" in Polish.
---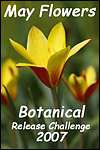 Sent to Sheepseeker.
Released for the challenge:
May Flowers / Botanical Release Challenge 2007
---

The books arrived here today - thanks so much, Alvhyttan! I had a look at the first page and it looks as if it'll take me a while to read it... I got the meaning but have to look up quite some vocabulary. This is a schallenge, but a good oportunity to practise :)

THANKS!
---