A Cool Million and the Dream Life of Balso Snell: Two Novels
Registered by
BookCrosser
of
Culemborg
,
Gelderland
Netherlands on 4/17/2007

This Book is Currently in the Wild!
6 journalers for this copy...

Forty years ago I found these two comic novels hilarious.


---

---
Wow, that is fast! Thanks a lot!
---
Yesterday I read one of the two stories, in which West turns the American Dream into a nightmare: instead of getting richer Lemuel Pitkin loses everything, including several bodyparts. Poor man. And yes, it was funny, but not funny enough to make me long to read the second story as well. I'll pass the book on to Stitchgrrl.
---
Journal Entry
5
by
Stitchgrrl
on Thursday, May 17, 2007
I actually hesitated between a 7 and an 8, let's make it a 7.5. I 'caught' the book in a very simple way - I found it in my postbox at the end of the drive! ;-) It was dropped there by MaaikeB who transported it by bicycle from her house a few villages further. We were alerted to this writer when we recently went to a talk by Ian McEwan in Amsterdam. He mentioned him as one of the writers who'd had a lot of influence on him, so of course we were curious as to what sort of books he wrote. I wrote a short piece about this book for my online woman's reading group, the boekgrrls, and I'm going to paste that here now. Sorry, it's in Dutch and I don't really feel like translating it at the moment but to summarise: those who like satire will enjoy these stories. And if you scroll down to the end of this posting there are some quotes in English.
Oh hang on, I have to leave this site to get to my boekgrrl entry - I'll send this first and post the rest in a few minutes... The book will be going to Gnoe in Utrecht very soon.
----------
Ha, back again! I'm getting the hang of this BX thing I think... ;-o

Bij de lezing van Ian McEwan in Amsterdam vorige maand liet hij de naam Nathanael West vallen als een van de schrijvers die hij bewonderde. Ik had nooit van die goede man gehoord maar via de wonderlijke wegen van de boek(crossing)domgrrls kon ik zondag avond een van zijn boeken uit mijn brievenbus in Doorn vissen. Eigenlijk zijn het 2 novella's - A Cool Million en The Dream Life of Balso Snell. Maar eerst kan ik misschien beter wat vertellen over de schrijver. Hij was Americaans, geboren in 1906 en was gedood in een auto ongeluk samen met zijn vrouw in 1940, met 4 romans op zijn naam.
Ik vraag me af of hij misschien een schrijver van formaat was geworden als hij wat langer had mogen leven...

Ik begon met The Dream Life, omdat dit de kortste was (ca 50
pagina's) en ook omdat het ging om een fantasie die plaats vindt in de binnenkant van de paard van Troj. (Ik ben nog steeds halverwege The Aenaes - het verhaal daarvan begint in Troj.) Bizarre verhaal, beetje Kafkaesque (vaag, vaag) en eigenlijk een serie nog kortere verhalen, want de karakter die door de darmen van de houten paard (huh?) wandelt, vertelt steeds de verhalen van de mensen die hij daar
ontmoet. Klinkt als iets dat ik eigenlijk niet zo graag zou willen lezen, maar echt, het is vaak erg grappig en leest ook erg snel weg. (Ik geloof dat de lezer vóór mij niet zo gecharmeerd mee was - hoop geïrriteerd-onderstreepte stukken met vraagtekens in de kantlijnen, vooral bij de vraagteken bij 'A hand in the Bush is worth two in the
pocket.' moest ik extra grinniken ;-)
De 2e verhaal (de eerste dus, volgen we dit nog?) was heel anders. Ongeveer 100 pagina's. Deed me heel erg aan de americaanse klassieker 'Babbit' denken (van Sinclair Lewis). Een soort morele vertelling - de wel en wee (vooral de wee dan, erg wel bleef hij nooit voor lang...) van Lemuel Pitkin die zijn fortuin ging maken in New York in de jaren 30 nadat zijn arme oude moeder bijna uit haar huis werd gezet
door een rijke kapitalist. En het gaat van kwaad tot erger; zijn uitgeschakelde lichaamsdelen worden steeds talrijker, zijn zuurverdiende geld wordt steeds van hem afgepakt, o,o,o wat moet die jongen lijden zeg! Het is een geweldige parodie van The American Dream en eindigt... maar ja, dat vertel ik natuurlijk niet.
--------
And to finish with - a few quotes as tasters...
---
Van Nathanael West dus. Opvallend was dat alle ezelsoren zijn in het 'paard van troy' verhaal gemaakt. De andere is meer 'gewoon' een rechte vertelling, zonder citaatbaar 'mooischrijverij'. 2 heel verschillende novella's dus, maar allebei de moeite waard.

--
'After all, what is art? I agree with George Moore. Art is not nature, but rather nature digested. Art is a sublime excrement.'
--
But, alas! when searching for the Real I throw a stone into a pool whose ripples become of advancing less importance until they are too large for connection with, or even memory of, the stone agent.
--
Chekhov's advice:
'It would be more profitable for the farmer to raise rats for the granary than for the bourgeois to nourish the artist, who must always be occupied with undermining institutions.'
--
Why this continual irritation at the sight of other peoples'
stupidities? What of your own stupidities and affectations?
---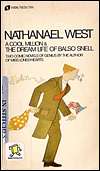 Zojuist in de brievenbus gevonden. Sinds de interview-avond met Ian McEwan ben ik erg benieuwd naar de novelles van Nathanael West, dus het boek gaat on top of Mt. TBR. Nou ja, eigenlijk doe ik dat altijd met boeken die ik van anderen krijg ;)
Update June 12th, 2007
I have only read A cool million and that's enough. I started reading The dream life of Balso Snell but I noticed that I didn't feel like continuing (I was tired and found it a little difficult to follow). A cool million was okay, but not fantastic and definitely not "uproariously funny", as the Blurb says. West does have his own style and I was surprised to read quite explicitely about rape and exploitation: I didn't know talking about that was allowed in the 1930's ;) But he could have made his point in less than the (already few) 100 pages - it was obvious after 1/3rd of the story that The American Dream is a big lie ;)
The pocket isn't in great condition anymore, but then it is a Avon Library Book without ISBN and must be a few years old ;)
---

Journal Entry
7
by
Gnoe
at
SamSam eetcafé in Enschede, Overijssel Netherlands on Tuesday, July 24, 2007
Released 14 yrs ago (7/25/2007 UTC) at SamSam eetcafé in Enschede, Overijssel Netherlands
WILD RELEASE NOTES:
RELEASE NOTES:

Wordt losgelaten tijdens de meeting.
---

Journal Entry
8
by

Alfa-Betje

from
Apeldoorn
,
Gelderland
Netherlands on Friday, November 2, 2007
Ik heb dit boek meegenomen van de meeting in Enschede op 14 oktober. Ik was niet echt van plan om het te lezen, maar nu ik de journal entries heb gelezen ben ik toch wat nieuwsgierig. Ik leg het even bij TBR, eens zien of ik eraan toe kom.
---

Journal Entry
9
by

Alfa-Betje

from
Apeldoorn
,
Gelderland
Netherlands on Monday, November 12, 2007
Ik heb A cool million gelezen, en vond dat wel een vermakelijke parodie op de Amerikaanse droom. Ik ben begonnen in The dream life, maar kon dit al meteen niet meer volgen (misschien te weinig algemene ontwikkeling ;-( ofzo), dus na een pagina of 4 heb ik het boek maar weggelegd.
---

Journal Entry
10
by

Alfa-Betje

at
bookcrosmeeting 25 november in Athens - Αθήνα, Attica Greece on Thursday, November 22, 2007
Released 13 yrs ago (11/25/2007 UTC) at bookcrosmeeting 25 november in Athens - Αθήνα, Attica Greece
WILD RELEASE NOTES:
RELEASE NOTES:

I will take this book to Athens and will leave it at the BC-meeting that is held somewhere....
---
I took the book from the meetup yesterday. I barely saw Betje and her family, as I arrived late in the meetup and after a while I saw the book on the table and decided to take it. I will give it a try. I have never read Nathaniel West before...

Edit: it was a pitty to have the book lying around for so long, so I let it go today.
---
Journal Entry
12
by
apapsa
at
Cinema Trianon in Athens - Αθήνα, Attica Greece on Thursday, January 31, 2008
Released 13 yrs ago (1/31/2008 UTC) at Cinema Trianon in Athens - Αθήνα, Attica Greece
WILD RELEASE NOTES:
RELEASE NOTES:
I released the book outside the cinema Trianon (in the stand with the leaflets). Trianon is in Kodrigktonos 21 and I left the book around 4:30 in the afternoon.
The book was released for the
"Στους 31 δρόμους Release Challenge"
, organised by aris1 for his 31st birthday!!!
---