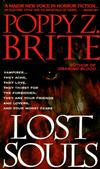 Lost Souls
3 journalers for this copy...
My previous ray for this book got stuck at Luintaurien's. Since she doesn't pass it on or even reply on my PMs I am considering the ray stalled and I am now starting a new one.
Link to the previous ray
.
This is the remaining list of members (I hope they all are still interested!) - member in bold currently has possession of the book:
(If you wish to join, please PM me and I will add you!)
perryfran
- Rockville, Maryland, USA
froggirlwendy - Brisbane, Queensland, Australia
NICNIC2
- Glasgow, Scotland
Scoobs-buddy
- Florence, Kentucky, USA / prefers US shipping
okyrhoe
- Athens, Greece
Asked to be removed:
aunt-sophie
- Gatineau, Quebec, Canada
The ray is now started. I hope this is the most satisfying order!
This is how it works:
• Please journal the book when it arrives (so we know it's safe and sound with you), once you read it (to let us know how you liked it) and when you ship it off (so we know it's on its way to the next reader)
• Try not to take longer than four weeks per book
• Surface shipping is perfectly acceptable
---
Finally, this ray is going out in the world again! :)
---
I put it in the mail yesterday. Have a safe journey, little book!
---

Journal Entry
4
by

perryfran

from
Elk Grove
,
California
USA on Monday, June 25, 2007
---

Journal Entry
5
by

perryfran

from
Elk Grove
,
California
USA on Tuesday, August 07, 2007
I was kind of mixed about this book - I found it to be somewhat disturbing and graphic and I really couldn't relate very well to the very troubled and "Lost Souls" portrayed in the book including the Goth/homosexual tendencies of most of the characters. Saying that, the book did keep me interested and Brite's take on vampires was different and unique - after you get past the gore and graphic descriptions, it kind of sucks you in so to speak. However, I didn't have any real strong feelings about the characters – especially Ann who seemed to unrealistically stray toward the vampire Zillah. Although I thought this was a better vampire tale than
Guilty Pleasures by Laurell K. Hamilton
(which I read recently), it didn't come close to a couple of my favorite vampire novels:
Salem's Lot by Stephen King
and
The Stake by Richard Laymon
.
I have froggirlwendy's address and the book will be in the mail to her this afternoon. Thanks adeps for restarting this bookray and including me!
---

Journal Entry
6
by

perryfran

at
Bookray in by mail, A Bookray -- Controlled Releases on Tuesday, August 07, 2007
Released 12 yrs ago (8/7/2007 UTC) at Bookray in by mail, A Bookray -- Controlled Releases
WILD RELEASE NOTES:
RELEASE NOTES:

On its way to froggirlwendy in Australia. Enjoy!
---
Arrived safe & sound today. Thanks so much perryfran for sending it my way and adeps for adding me to the ring (after buying another copy to continue the stalled ray). Hugs :o)

As I appear to be last on the list, I will put it on my TBR pile until I get through the bookrings I have here (3 ATM) and then read it. I will happily RABCK this once done (unless you add others to the list in the meantime).
---