Paula
Registered by

meganh

of
Preston
,
Victoria
Australia on 3/20/2007
3 journalers for this copy...

One of a collection of books passed to me via Mum from the Sale Probus Book Club – "for your daughter's bookcrossing thing". Some of these look very interesting and will go on my shelf to read before releasing. The Probus ladies are keen to hear of the journey these books take.
---

I loved this very personal memoir. I sobbed for the last few pages (always a sign of a good book for me). Isabel Allende really bared her soul – sometimes so much that I wondered if it was totally true – particularly the cause of her reaction to the death of a young fisherman when she was only eight years old.
I enjoy her writing immensely and this true story about the gradual decline of her comatose daughter is heart-breaking. As a mother, one always hopes that one's children will outlive you!
Her tenacity in trying to keep her daughter alive was amazing and the support she received from her family and supporters was very important to her well-being.
Overall I would rate this 10/10 both for the writing and for the fact that the author gave her "all" in this book.

---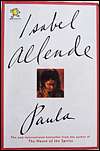 → different cover ←
I picked 'Paula' up at the meet-up last night at Namaste Indian Restaurant on King St. in Melbourne, Australia and I'm really looking forward to it.
"In December 1991, Isabel Allende's daughter Paula, aged 28, fell gravely ill and sank into a coma. Faced with the loss of her child, Allende turned to the thing she does best - to her storytelling - to sustain her own spirit, and to convey to her daughter the will to survive."
03/07/2007: Just finished this wonderful read. I really enjoyed it and as
meganh
before me, I couldn't hold my tears back towards the end. A great book, which I hope will touch many more BookCrosser...
Read as part of the
1 Year = 1 Country Challenge
for Chile.
---

Journal Entry
4
by
UbSiA
at
Royal Melbourne Hotel, Bourke St in Melbourne CBD, Victoria Australia on Wednesday, July 11, 2007
Released 12 yrs ago (7/11/2007 UTC) at Royal Melbourne Hotel, Bourke St in Melbourne CBD, Victoria Australia
WILD RELEASE NOTES:
RELEASE NOTES:

Will take this book to the meet-up tonight.
---

Well, I'm one of those people who just cry at anything, so I expect to have my Kleenex next to me when I read this one. Will share my thoughts when I'm finished!

From Amazon.com:
Allende is a mesmerizing novelist (The House of the Spirits; The Stories of Eva Luna) who here takes on a double challenge. Writing nonfiction for the first time, she interweaves the story of her own life with the slow dying of her 28-year-old daughter, Paula. A magician with words, Allende makes this grim scenario into a wondrous encounter with the innermost sorrows and joys of another human being. In 1991, while living in Madrid with her husband, Paula was felled by porphyria, a rare blood disease, and, despite endless care by her mother and husband, lapsed into an irreversible coma. Her mother, as she watched by Paula's bedside, began to write this book, driven by a desperation to communicate with her unconscious daughter. She writes of her own Chilean childhood, the violent death of her uncle, Salvador Allende, and the family's flight to Venezuela from the oppressive Pinochet regime. Allende explores her relationship with her own mother, documented in the hundreds of letters they exchanged since she left home. Allende later married-and divorced-an undemanding and loyal man and became a fierce feminist, rebelling against the constraints of traditional Latin American society. Eventually, hope waning, Allende and her son-in-law take the comatose Paula to California, where the author lives with her second husband. The climactic scenes of Paula's death in the rambling old house by the Pacific Ocean seem to take place in another time and space. Only a writer of Allende's passion and skill could share her tragedy with her readers and leave them exhilarated and grateful.
---