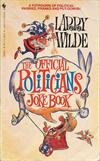 The Official Politicians Joke Book
1 journaler for this copy...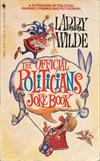 Bought today at City Secondhand, one of 13 books for $8 + tax. TBR
From the front cover:
A POTPOURRI OF POLITICAL PARRIES, PRANKS AND PUT-DOWNS!
LARRY WILDE
THE OFFICIAL POLITICIANS JOKE BOOK
From the back cover:
CAST YOUR BALLOT FOR COMIC RELIEF!
A VOTE FOR LARRY WILDE IS A VOTE FOR LANDSLIDE LAUGHTER! NOW, IN THIS ROLL CALL OF RIBALDRY AND RIP-ROARING FUN, HE GIVES THE RAZZ TO THE FAT CATS, TAX COLLECTORS, DIZZY DEMOCRATS AND RUDE REPUBLICANS WHO GIVE CORRUPTION AND PERVERSITY IN AMERICA A BAD NAME!
THE OFFICIAL POLITICIANS JOKE BOOK
With sales of more than 6 million books, comedian Larry Wilde is now America's #1 bestselling humorist. Other currently available titles include: REDNECKS JOKE BOOK, THE OFFICIAL LAWYERS JOKE BOOK, THE OFFICIAL DOCTORS JOKE BOOK, THE LARRY WILDE BOOK OF LIMERICKS, THE LAST OFFICIAL SEX MANIACS JOKE BOOK and THE ABSOLUTELY LAST OFFICIAL POLISH JOKE BOOK.
---
Gave it a read some time ago. Pretty cheezy. Now Available. A few faves:

"Will Rogers once said: The trouble with political jokes is that very often they get elected."

"[Abe Lincoln] once said, "With the fearful strain that is on me night and day, if I did not laugh, I should die.""

"Winston Churchill was once asked to state the qualifications for a politician. Without hesitation he answered: It is the ability to foretell what will happen tomorrow, next month, next year -- and to explain afterward why it did not happen."

"WARD HEALER'S WALTZ
She was only a politician's daughter,
but she said yes to every proposition."

"A college newspaper recently suggested that the marijuana question could easily be settled by a joint session of Congress."

"Ronald Reagan once said of Mr. Ford, "Jerry is a completely modest man -- and with very good reason."

"Did you hear about the establishment near Congress in our nation's capitol that caters to kinky tastes? Naturally, there's a House whip in attendance."

"DEMOCRATIC DITTY
She was only a politician's daughter,
but, Boy, could she kiss your baby!"

"A young Republican mayor took $200,000 from the city's safe and lost it on a real estate deal. Then his beautiful wife left him. In despair, he went down to the river and was about to jump off the bridge when he was stopped by a wrinkled-faced, stringy gray haired woman in a black cloak.
"Don't jump," she rasped. "I'm a witch, and I'll grant you three wishes if you do something for me!"
"I'm beyond help," he replied and told her his troubles.
"Don't be silly," she said, "Abracadabra! The money is back in the city hall vault. Abracadabra! Your wife is home waiting for you with love in her heart. Abracadabra! You now have $400,000 in the bank."
"That's w-w-wonderful!" stuttered the mayor. "What do I have to do for you?"
"You must spend the night making love to me."
The thought of sleeping with the toothless old hag was repellent, but it was certainly worth it, so they retired to a nearby motel.
In the morning, the distasteful ordeal over, the mayor was getting dressed when the bat in the bed said, "Say, sonny, how old are you?"
"I'm forty-four," he replied, "Why?"
"Ain't you a little old to believe in witches?"

Dorothea Gray, California's consummate theatrical booker, tells about the group of tourists who were looking down into the depths of the Grand Canyon.
"Did you know," said the guide, "that it took over five million years for this great canyon to be carved out of the rocks?"
"Oh?" said one of the sightseers, "I didn't know this was a government project."

BUREAUCRAT
A person who proceeds in a straight line from an unknown assumption to a foregone conclusion

A South Carolina lieutenant governor spoke at a political affair: "I am not going to talk to you tonight in generalities. I am going to speak to you at random."

Did you hear about the mint-flavored shoes for government officials who keep putting their feet in their mouths?

"There are some things in your speech that I didn't quite understand," said a voter.
"Probably," replied the Republican senator. "Those were the topics I referred to in a confident offhand way to avoid disclosing that I don't understand them either."

two senior systems were strolling through the cemetery of a large New England city. Suddenly they stopped at a stone that read:
HERE LIES A POLITICIAN AND AN HONEST MAN
"Can you imagine that," said Tracy, "two people in one grave!"

The mistake a lot of politicians make is to forget they've been appointed and think they've been anointed.

The gifted politician is the one who can give the type of answer that makes you completely forget the question.

To err is human. To blame it on someone else is politics.
---